Several wineries in the Commonwealth of Virginia are not federally registering their wine brands as trademarks. We compared the number of wineries in all 50 states (and the District of Columbia) to the number of federal wine trademark applications/registrations, and here are the results. As you will see, while Virginia comes in eighth place among all states regarding the total number of wineries (360 wineries according to TTB), Virginia wineries are in the bottom half of all states (28th place) when it comes to federal trademark applications and registrations per winery (409 applications/registrations, or just above 1 trademark application/registration per winery). This rate drops to about 7 applications/registrations per 10 wineries when you add in pending winery licensees (573, according to Virginia ABC). This rate would be even lower if we considered the almost certainty that some of the applicants/registrants are private label brand owners that do not themselves own a winery.
This begs the question, "Why are so many Virginia wineries foregoing federal trademark applications?" There are some legitimate reasons why a company should not try to federally register its brands as trademarks. Read more on that here. In our experience, these situations are few and far between. More likely, we expect that many Virginia wineries may not understand the benefits of trademark registration, may overestimate the costs of trademark registrations and applications, or may simply be too busy dealing with the day-to-day duties of running a winery. In such cases, the wineries may be missing out on what is often a fleeting opportunity to stake an early claim to exclusive rights in their brands.
Benefits of federal trademark applications and registrations
Filing a federal trademark application provides the applicant with the exclusive right to use the mark (and confusingly similar variations of the mark) in connection with the described goods (and related goods) as of the date of filing. Waiting to file a trademark application could mean the difference between coasting through the trademark application process and dealing with refusals or disputes down the road. You may be able to take advantage of your US priority date in foreign and international trademark applications as well (read more here).
Note: The USPTO is in the habit of expanding the scope of what types of products it deems to be related to wine products. We have seen marks related to beer and spirits products cited against trademark applications for wine products; this can also happen with restaurants/bars and even food products.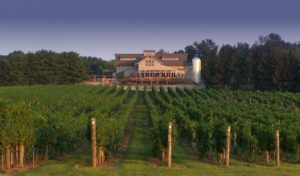 Dangers of failing to secure a federal trademark registration
A winery that fails to make the filing of federal trademark applications for its brands an early priority is taking a big risk. Possible ramifications include:
A competing winery producing a similar product under a similar mark, with little or no recourse available to the winery.

A competitor filing a trademark application for a similar (or even identical) mark for similar (or identical) goods. The USPTO does not investigate third party use of a mark when considering whether to approve the mark for registration. This would make the winery's own ability to register its mark in the future much more difficult, if not impossible.



On the contrary, when a winery files federal trademark applications for its marks early, it makes it much more difficult, or even impossible, for competitors to register similar marks for related goods. Taking early steps to secure trademark rights in a brand provides a winery with a significant advantage over competitors that may desire to use similar marks down the road.
Focus on building brands that are available for federal trademark registration
For many wineries reading this article, this advice might be coming too late. If you've been running a winery for years now, and your name isn't available for trademark registration (whether because the name is a generic/highly descriptive term for your products, or because a competitor already owns the mark), you may have missed your opportunity to develop a brand you can own outright. There may be options even then for improving your situation. This requires a careful analysis of your specific situation.
Nonetheless, if and when you create a new logo, name a new product, or come up with another brand-differentiating element (slogan, design, etc.), whenever possible, take the step of making sure the name is available for registration before settling on the new mark. At least check the USPTO's Trademark Electronic Search System and TTB's Public COLA Registry Search. Even better, have an attorney do a full clearance search. Read more on full clearance searches here. Please contact Dan Christopherson for more information on this topic.