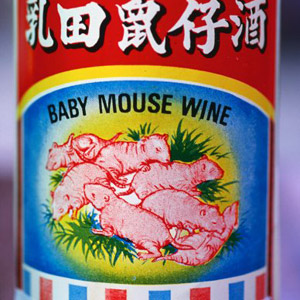 A few months ago, an industry newsletter brought news of Baby Mouse Wine and other delicacies oddities from around the world. Since then, the email has been clogging up my inbox, as I attempt to track down this libation. The article was originally in Forbes and had this to say about the mouse wine:
Like the name suggests, this is a rice wine containing baby mice. Best prepare, this explanation isn't for the faint of heart. Baby mice are taken soon after being born, and dropped, alive, into a bottle of rice wine. The "rules" state that they must be under 72 hours old and their eyes must still be closed. After about a dozen of the little guys are in, the bottle is left to ferment and age for a year. Most people reading this are probably feeling a little uncomfortable right about now, but in Asia, the drink is bound by tradition and goes back centuries. The country of origin is debated to this day. Whether it came from Korea or China, the wine is said to greatly help asthma patients and people with liver disease.
I am simultaneously relieved and disappointed, that I can't find any of this in the TTB database. If there is a more exotic product out there, I have yet to see it, and I don't think all the saliva- and snake-type products even come close. I was hoping to take this story to the next level by finding some related approvals and reviewing the legal hoops involved. Sadly, instead, I will have to settle for merely adding a few photos that Forbes was far too genteel to publish. Like these.