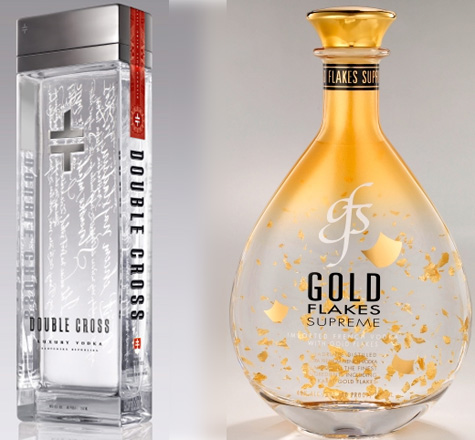 One is filtered through diamonds and the other has gold flakes in the bottle. Double Cross Vodka is made in the Slovak Republic, where it is "filtered with diamond dust." The small red strip label says so. Thanks to The Intoxicologist and Emily Haile for bringing this to our attention. Luxist explains:
The seven-times-distilled spirit uses only 100 percent organic, estate-grown winter wheat and mountain spring water drawn from aquifers located 200-feet below ground level. Double Cross' diamond dust filtration system is said to provide unprecedented filtration capability because of the "unique shape and sub-micron size of the diamond dust particles."
Rather than filter through the costly substance and leave it at the distillery, Gold Flakes Vodka puts the 24 karat gold right in each bottle. Luxist says it will retail for about $60 per bottle.