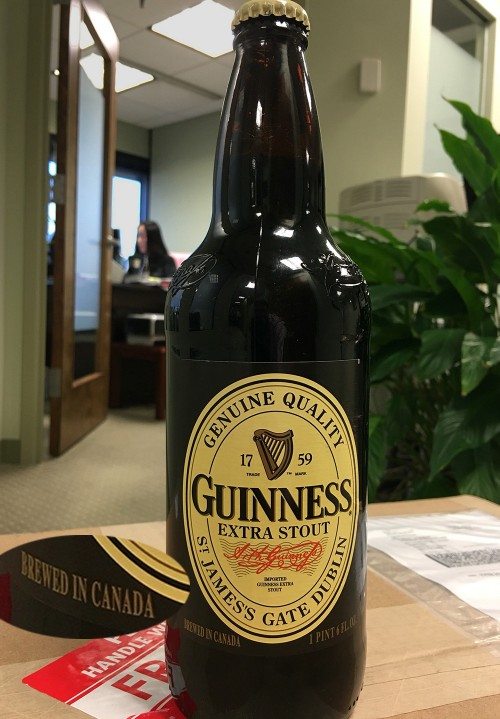 Another lawsuit. On Tuesday, a Massachusetts consumer filed suit against Guinness, alleging deceptive labeling and marketing. This is yet another in the long series of nationwide class action lawsuits stalking the alcohol beverage industry in the past 15 months, since the initial Tito's suits. The case is O'Hara v. Diageo-Guinness, filed in federal court. Just four days earlier, a New York City man filed suit against Foster's Beer similarly.
The Guinness complaint says the company "represents that all Extra Stout sold in the North America is brewed in Ireland at the historic St. James's Gate Brewery in Dublin."
This, however, would seem to be an extra stout assertion, because new lawyer Frank and I walked over to a beer store today. The store had Guinness in various sizes and shapes, but all of the packaging seemed to show the origin clearly. Most clearly said brewed in Ireland; some (such as above) clearly said BREWED IN CANADA. We did not see any packages that made the origin hard to divine. Things may be different up in Massachusetts but nonetheless, this would seem to drastically limit the size of any class and any damages. With all the Guinness on display at the local store, clearly showing product of Ireland, and labels like this, we don't see how the plaintiff could possibly be right in asserting "Extra Stout is not manufactured, brewed, bottled and/or imported from Ireland." Does anyone else see a conflict between the photo above and this?:  "Extra Stout's outer packaging does not mention, reference and/or indicate that Extra Stout is manufactured, brewed, bottled and/or imported from Canada. … Extra Stout's label only contains one small print disclosure on the back label of the bottle acknowledging that Extra Stout is actually brewed and bottled in New Brunswick, Canada."
The plaintiff fares better when challenging the second of these assertions, from the Guinness website (click to enlarge):


Even if the second FAQ is wrong, it looks to be simply a mistake. It would be tough to avoid any such mistake in view of the other FAQ, showing that the product is made in almost 50 countries and needs to comply with the laws of "well over 100." It looks like the plaintiffs are in for some tough sledding.