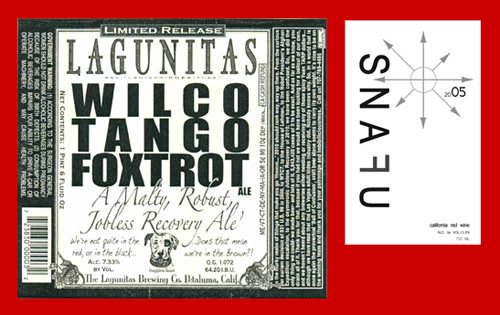 We find no FUBAR approvals to date, but here we have WTF ale from Lagunitas, and SNAFU wine from Cartlidge & Browne.
Both make liberal use of military slang. Lagunitas does so to express their dismay and confusion about the current state of world affairs. Tango and Foxtrot are well established as the military alphabet codes for T and F. Wilco famously used these codes on a 2002 album, but Whiskey, rather than Wilco, is the correct code for W. Perhaps the Petaluma, California brewer believed TTB would not allow the term "whiskey" on a malt beverage label. Or perhaps they are big Wilco fans. Or perhaps they are just very confused, further to the freewheeling text on the label (tieing in Bush v. Gore, adult videos, and imbibilisciousness).
SNAFU, apart from the acronym, is California red wine bottled by Cartlidge & Browne in American Canyon, California. It claims to be the first wine to provide tasting notes via text message.