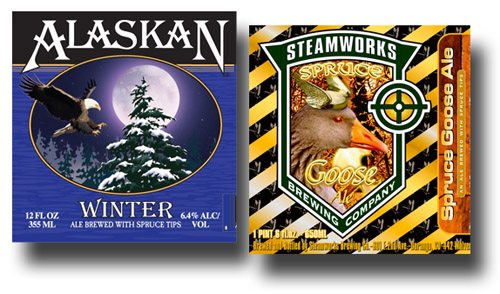 Both of these beers are brewed with spruce tips. We've heard very little about spruce tips and so we wanted to see what this ingredient is all about.
The first example is Alaskan Ale Brewed with Spruce Tips, brewed by Alaskan Brewing Co. in Juneau, Alaska. This is not some newfangled concoction. The label for the second example, Steamworks Spruce Goose Ale, explains that beer with spruce goes all the way back to the Vikings. It says:
Beers brewed with Spruce, and other varieties of Pine, were introduced to Scotland by the Vikings. They would spike beers with fresh Spruce Tips prior to long journeys and before battle. … This, our modern day version, is pin-bright, complex and sprucy with a big mouth feel.
Captain Cook carried "spruce beer" on his voyages because spruce was a good source of vitamin C and helped prevent scurvy. Wiki further explains that "spruce has been a traditional flavoring ingredient throughout the upper latitudes of the Northern Hemisphere where it is found, often substituting for ingredients not otherwise available, such as hops."