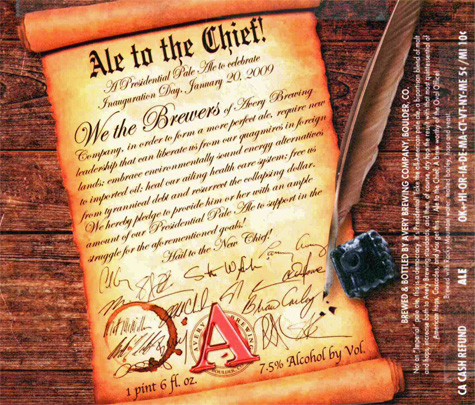 Avery Brewing is more than ready for the new president. Way back in March, this Boulder, Colorado brewer got approval for Ale to the Chief!, a Presidential Ale. Blast Magazine says it's selling well, and in 32 states. The script on the label says:
Ale to the Chief!
A Presidential Pale Ale to celebrate
Inauguration Day, January 20, 2009
We the Brewers of Avery Brewing Company, in order to form a more perfect ale, require new leadership that can liberate us from our quagmires in foreign lands; embrace environmentally sound energy alternatives to imported oil; heal our ailing health care system; free us from tyrannical debt and resurrect the collapsing dollar.
We hereby pledge to provide him or her with an ample amount of our Presidential Pale Ale to support in the struggle for the aforementioned goals!
Hail to the New Chief!
A brew worthy of the Oval Office!