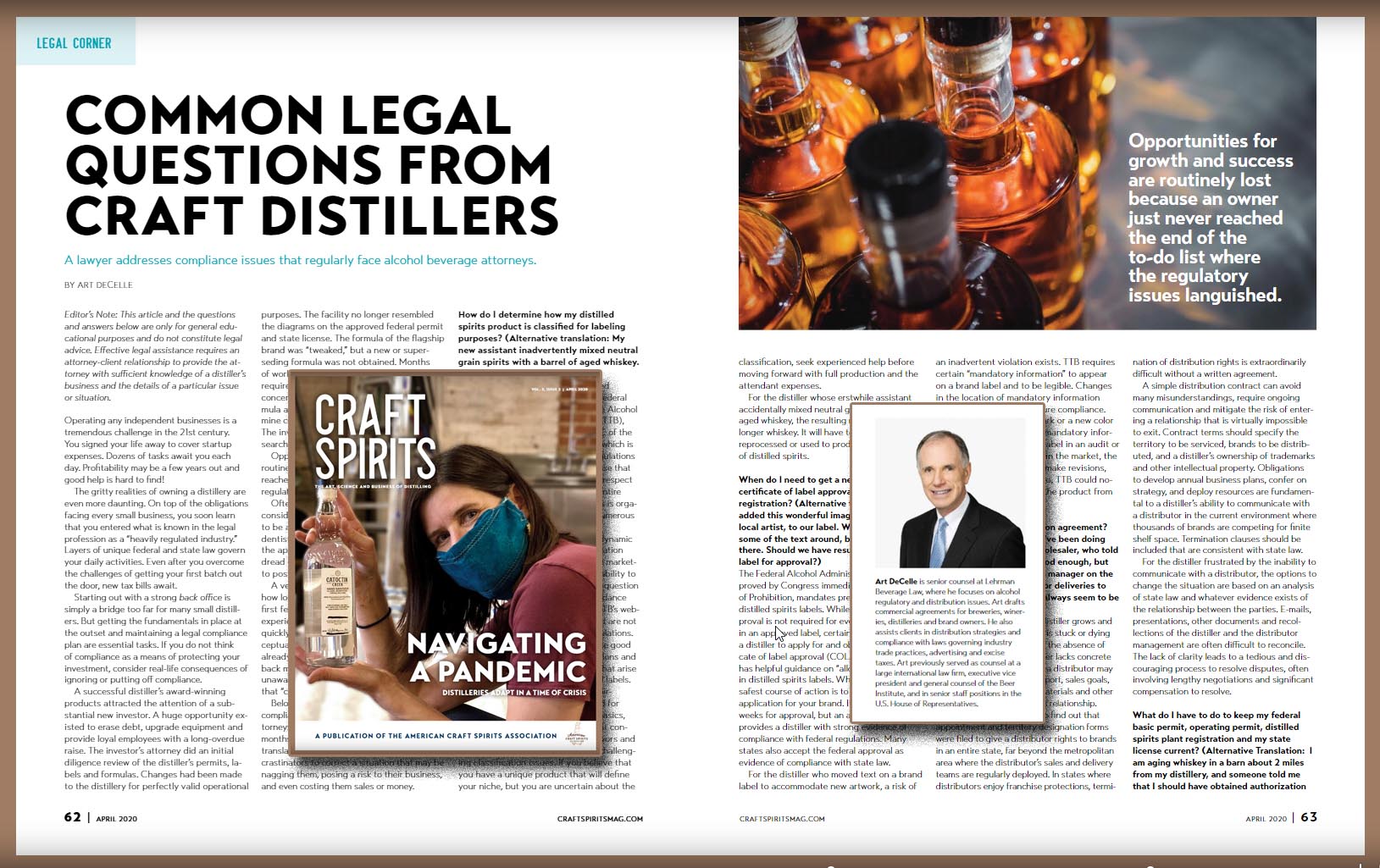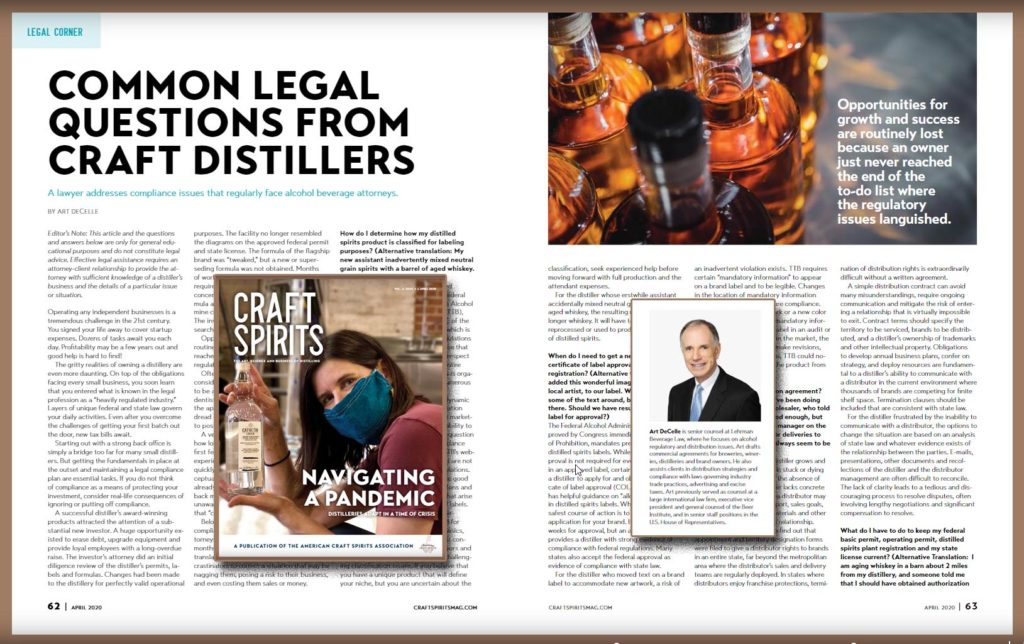 Make the best of your quarantine down-time and pick up the latest issue of Craft Spirits magazine. Therein you can read all about the most common legal questions that take craft distillers away from producing and marketing spirits. The above article appears in the April 2020 issue of ACSA's new magazine, at page 62.
The article is written by long-time beverage law veteran Art DeCelle. An excerpt is below and you can find the whole article at the link above.
Why do I need a distribution agreement? (Alternative Translation: I've been doing business with my local wholesaler, who told me that a handshake is good enough, but I can never get his general manager on the phone, and our requests for deliveries to our city's best restaurant always seem to be lost or delayed.)

This issue often arises as a distiller grows and recognizes that its business is stuck or dying in a given state or market. In the absence of a written agreement, a distiller lacks concrete evidence of assurances that a distributor may have made about brand support, sales goals, placement of point of sale materials and other critical aspects of a business relationship. Distillers may be surprised to find out that appointment and territory designation forms were filed to give a distributor rights to brands in an entire state, far beyond the metropolitan area where the distributor's sales and delivery teams are regularly deployed. In states where distributors enjoy franchise protections, termination of distribution rights is extraordinarily difficult without a written agreement.

A simple distribution contract can avoid many misunderstandings, require ongoing communication and mitigate the risk of entering a relationship that is virtually impossible to exit. Contract terms should specify the territory to be serviced, brands to be distributed, and a distiller's ownership of trademarks and other intellectual property. Obligations to develop annual business plans, confer on strategy, and deploy resources are fundamental to a distiller's ability to communicate with a distributor in the current environment where thousands of brands are competing for finite shelf space. Termination clauses should be included that are consistent with state law. 

For the distiller frustrated by the inability to communicate with a distributor, the options to change the situation are based on an analysis of state law and whatever evidence exists of the relationship between the parties. E-mails, presentations, other documents and recollections of the distiller and the distributor management are often difficult to reconcile. The lack of clarity leads to a tedious and discouraging process to resolve disputes, often involving lengthy negotiations and significant compensation to resolve.
Go here to keep on reading.