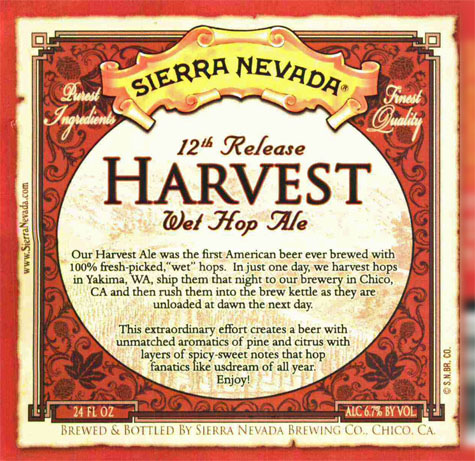 On Monday and Tuesday we brought you flowers in the form of rose liqueur and elderflower liqueurs. Without further ado, we wanted to bring you the most commonly used of all the flowers used in alcohol beverages. But we didn't wanted to bring you just any hops. So here we bring you wet hops. Sierra Nevada makes Wet Hop Ale. In a video and on the label they explain that it:
… was the first American beer ever brewed with 100% fresh-picked "wet" hops. In just one day, we harvest hops in Yakima, WA, ship them that night to our brewery in Chico, CA and then rush them into the brew kettle … This extraordinary effort creates a beer with unmatched aromatics of pine and citrus … that hop fanatics like us dream of all year.
Hops are the female flower cones of the hop plant (Humulus lupulus). They are used primarily as a flavoring and stability agent in beer, and also in other beverages and in herbal medicine. The first documented use in beer is from the eleventh century. Hops contain several characteristics favorable to beer, balancing the sweetness of the malt with bitterness, contributing flowery, citrus, fruity or herbal aromas, and having an antibiotic effect that favors the activity of brewer's yeast over less desirable microorganisms. … Many different varieties of hops are grown by farmers all around the world, with different types being used for particular styles of beer.