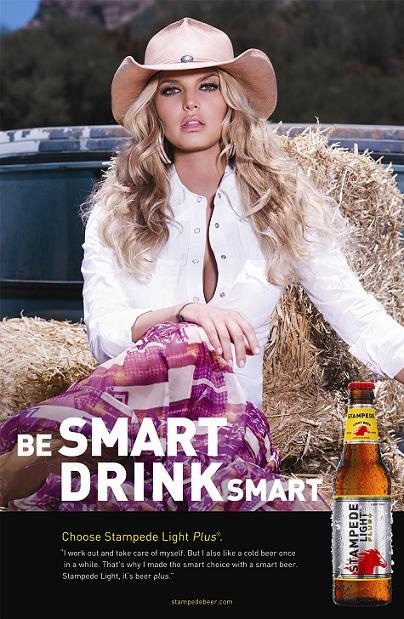 TTB is unlikely to allow "Beer with Vitamins" anytime soon. And yet every couple of months, we hear a report of another "beer with vitamins." Most often, it's based on flimsy evidence. But every now and then, something very close or on the mark will turn up.
Stampede Light (above) shows a beer sometimes purported to contain vitamins. The approved labels don't mention vitamins. But the advertising strongly hints that this beer contains added vitamins. The website (as of March 2009) refers to doctors, vitamins, health, and shows a person doing one-handed pushups. It probably went much further, before 2007. Forbes reports that Larry Schwartz:
launched Stampede in November 2005 by marketing it as "beer with horsepower" and trumpeting its added vitamins in print ads and radio spots in Texas–and on his MySpace page. A short time later he received a letter from the Alcohol & Tobacco Tax & Trade Bureau, part of the U.S. Treasury Department. The TTB says health-related claims made by alcoholic drink manufacturers must be verifiable and balanced with revelations about the health risks of excessive alcohol consumption.
Schwartz … who has racked up $100,000 in legal fees while negotiating with the TTB, hopes below-the-radar marketing tricks will give Stampede a boost–and keep him out of trouble.
For example, it looks as if Mr. Schwartz has retained a certain actress to say what he'd better not say.
We did find another brand — with clear evidence of added vitamins, right on the approved front labels. But before setting off any more false alarms about beer with vitamins, we hasten to add that these approvals are not recent, and their current status is "surrendered."
TTB is at the early stages of developing regulations related to alcohol beverages containing vitamins, minerals and caffeine.
March 19, 2013 Update:  TTB's interim policy.