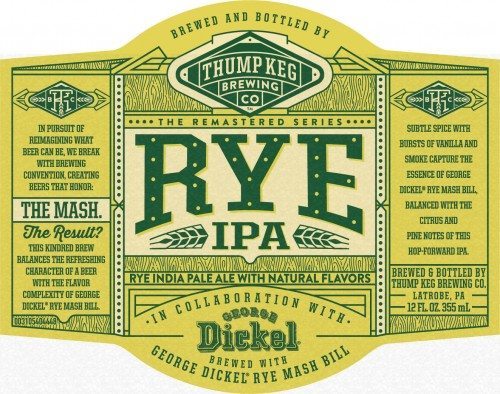 Latrobe did a "brilliant" job here, picking up on a lot of important trends.
Let's see how many instructive legal issues this one label raises. Extra points for anyone who can raise additional issues. No more ALS challenges, please.
It is beer but it more or less screams spirits.
In a variety of ways. (For example, the brand name refers to moonshine paraphernalia, as Tickle's sidekick helpfully explains.*)
Within the rules, probably.
Even though spirits terms are not allowed on beer labels.
Even though this product contains and purports to contain absolutely no whiskey of any sort.
It mentions George Dickel at least three times.
It mentions Rye but not Rye Whiskey. This is very smart in that, though they mean about the same thing to most people, rye is just a grain, and it's not necessarily whiskey without the second word attached. Like Bourbon is not sufficient on even a Bourbon Whiskey label, without the second word.
Latrobe used a formula, notwithstanding that TTB has eased way up on formula requirements.
The label raises a lot of good trademark issues, tied up with Latrobe's use of another company's highly protected brand name.
TTB seems to be allowing the term "refreshing" these days, on a pretty liberal basis, even though this policy has wavered a bit over the years.
This Tequila-themed beer shows that the above Whiskey-themed beer label is not just a fluke.
What did we miss?
* John's parents will be proud that we have done some work for Tim Smith, Junior Johnson, The Hatfields & McCoys, Jesse Jane, Popcorn Sutton, Jesse James and other rapscallions. And this guy just looks guilty — I am not sure of what — but moonshining at least.