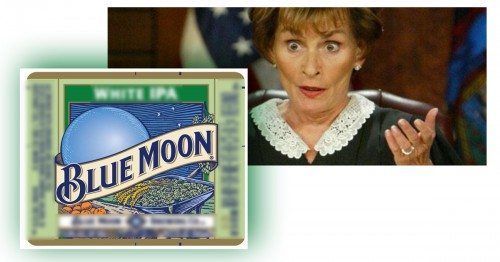 At long last, MillerCoors filed its response, in the Blue Moon case, on July 13. The company makes some good arguments, and to my ear, these seem best:
MillerCoors is expressly authorized by state and federal law to use the Blue Moon Brewing Company trade name.

The safe harbor doctrine applies where either state or federal law has blessed the conduct at issue. (Here, MC nemesis, A-B, did the former a huge favor in the form of winning the

Lime-A-Rita case

just in time.) The company is careful to point out that the laws and regulations, not necessarily the label approvals, create the safe harbor.

Should a court find liability under these circumstances, where a registered trade name is used instead of the parent company name, it would dramatically change the way that many corporations operate, effectively standing corporate America on its head. Trade names are used in many industries, and many brands have surprising corporate relationships. Just to name a few: Jiffy Lube is owned by Shell Oil Company, Haagen-Dazs is owned by Nestle in the U.S., Taco Bell and Kentucky Fried Chicken are owned by Yum! Corporation and Ben & Jerry's ice cream is owned by Unilever.

The company's trade name and trademark registrations put Plaintiff on notice of its ownership and use of Blue Moon Brewing Company.

There is no definition of "craft beer," much less a legal one. Plaintiff relies on ever changing guidelines promulgated by the Brewers' Association ("BA"), a trade group that has zero rulemaking authority, which defines an "American Craft Brewer," but not the term "craft beer." A trade association's arbitrary definition of "craft brewer" does not give the trade association the power to abscond or control the use of the word "craft" or "crafted" by all beer industry participants.
The case goes on from here. In related news, at the time of my first post related to this brand and controversy, I was able to see and comment upon the plaintiff's side only. Above, I am happy to have a chance to show the other side. Outside the court papers, the company's response has been:
MillerCoors is tremendously proud of Blue Moon and has always embraced our ownership and support of this wonderful brand. The class action filed against MillerCoors in California is without merit and contradicted by Blue Moon Brewing Company's 20-year history of brewing creative beers of the highest quality. There are countless definitions of "craft," none of which are legal definitions. We choose to judge beer by the quality, skill and passion that goes into brewing it. Back in 1995, Keith Villa, Blue Moon's founder and head brewmaster had to work extremely hard to convince people to try his cloudy, Belgian-style beer. Today, MillerCoors is proud that Blue Moon has invited millions of drinkers to try something new, while helping pave the way for the current explosion of creativity in the brewing community.
If anyone wants to send funds I will consider setting up the Evan Parent Sympathy Society, to make reparations for the grave injustices he has encountered. It is not easy to be a beer aficionado. On a slightly more serious note, I propose that the company should seek to settle this suit by inviting the beer aficionado to spend a week at their brewery, brew it his way, up to 1,000 gallons, and see who wants to drink it.