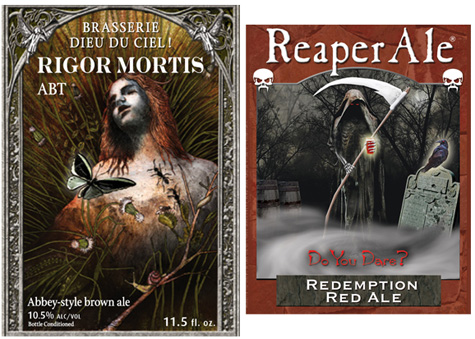 There is a huge, long history of associating alcohol beverages with death and demise. In recent US history, this is famously illustrated by the Black Death Vodka episode of the 1990s. This trend shows no signs of abating.
Rigor Mortis Ale is made in Quebec, Canada and is imported by Shelton Brothers. The label does not explain why the product is adorned with a rotting corpse and snails and ants. Would you rather stare at a frosty glacier or a rotting corpse as you quaff a brew? Wikipedia explains that rigor mortis is:
postmortem rigidity due to buildup of lactic acid, which causes "the actin and myosin filaments of the muscle fibers [to] remain linked until the muscles begin to decompose." (In simpler terms, this means that the muscles become stiff because there is a build up of the waste of the energy producing process of the body. This buildup is because the chained tissues of muscles hook together and stick until the body starts to decompose. During decomposition, this buildup is broken down over time.) Immediately following death the body is flaccid. It becomes increasingly rigid over time due to lack of ATP and buildup of lactic acid. This process happens in stages over the first thirty six hours post mortem.
We are not sure if Reaper Ale is more or less upbeat. On one small label it sports a grim reaper, skulls, a black crow, a scythe, and a tombstone. It appears there is a good market for beers you are just barely unafraid to drink.