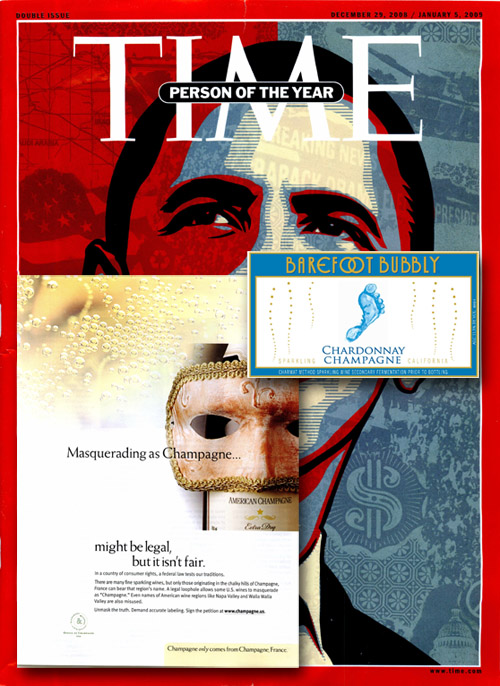 We never thought we'd see a TTB controversy make it into a big ad in the national media — let alone a full page ad in Time Magazine. The yellow ad is on page 69 of the December 29, 2008 "Person of the Year" double issue and it covers the entire page.
The French Office of Champagne is not at all pleased that some non-French wines qualify to be called Champagne, under US law. The ad says "Masquerading as Champagne … isn't fair. … A legal loophole allows" some names to be misused.
In 2006, after many years of negotiations between the US and the European Union, and agreement, TTB set forth the current US rule in TTB Industry Circular 2006-1:
the U.S. made a commitment to seek to change the legal status of [terms like Champagne] to restrict their use solely to wines originating in the applicable EU member state, with certain exceptions. Because the IRC specifically defines semi-generic names, this law must be changed in order to restrict the usage of the names to wines originating in the EU. Assuming the law is so changed, the Agreement contains an exception to this rule. We refer to this exception as the "grandfather" provision. Under the "grandfather" provision, any person or his or her successor in interest may continue to use a semi-generic name or Retsina on a label of a wine not originating in the EU, provided the semi-generic name or Retsina is only used on labels for wine bearing the same brand name, or the brand name and the fanciful name, if any, that appear on a COLA that was issued prior to March 10, 2006.
E. & J. Gallo appears to have been very deft in navigating this elaborate path, to preserving the term Champagne on its top-selling brands such as Barefoot (above), Tott's, Andre, and Ballatore. Box 19 of the Barefoot COLA shows that TTB grandfathered this brand.