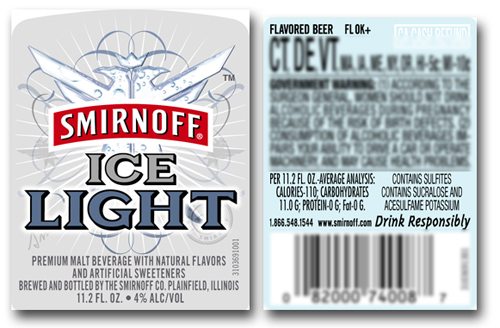 The back label says CONTAINS SUCRALOSE AND ACESULFAME POTASSIUM. The front label says PREMIUM MALT BEVERAGE WITH NATURAL FLAVORS AND ARTIFICIAL SWEETENERS.
We think this is noteworthy due to the unabashed use of artificial sweeteners. Perhaps this marks a trend toward a much wider use of artificial sweeteners, in beverages so commonly sweetened with sugar over so many centuries. It is partly a liberalization, on the part of FDA and TTB, allowing a wider variety of sugar substitutes. It may also be due to forward-thinking companies getting way out in front of the eventual need to disclose calories and carbohydrates.
IFIC says sucralose is 600 times sweeter than sugar, derived from sugar and:
can be used in place of sugar to eliminate or reduce calories in a wide variety of products. … Sucralose was discovered in 1976. … In 1998, [FDA] approved the use of sucralose in 15 food and beverage categories — the broadest initial approval ever given to a food additive.
Acesulfame Potassium, according to Wiki, is:
a calorie-free artificial sweetener, also known as Acesulfame K or Ace K (K being the symbol for potassium), and marketed under the trade names Sunett and Sweet One. … It was discovered accidentally in 1967 by German chemist Karl Clauss at Hoechst AG (now Nutrinova). [It] is 180-200 times sweeter than sucrose (table sugar), as sweet as aspartame, about half as sweet as saccharin, and one-quarter as sweet as sucralose. … Acesulfame K is often blended with other sweeteners (usually sucralose or aspartame). These blends are reputed to give a more sugar-like taste whereby each sweetener masks the other's aftertaste, and/or exhibits a synergistic effect by which the blend is sweeter than its components.
This same label is also noteworthy because it has a famous spirits name (on beer), it has an abbreviated serving facts panel, and it has a moderation message.