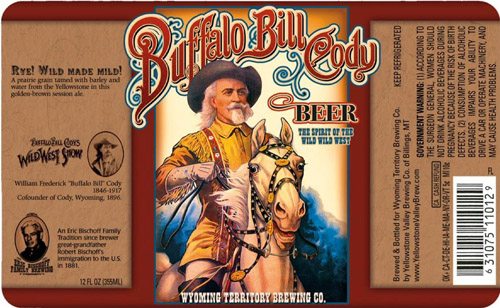 It's not every day that you see COLA news on the front page of the newspaper, but it does happen from time to time. On Saturday, The Wall Street Journal featured COLA news on the front page. The story explained that no less than three companies have been trying to use Buffalo Bill as part of their branding — with two of them fighting it out in court. "The two entrepreneurs are fighting in court for the exclusive right to sell beer that trades on the musky aura of adventure surrounding Army-scout-turned-bison-hunter-turned-sharpshooting-showman William F. Cody."
Eric Bischoff got his first COLA in March of 2011 (and the second one is here). He is a "former professional wrestling icon."
While Bischoff already has the COLAs and applied for the trademark, it looks like Mike Darby has been selling beer under the Buffalo Bill name since before Bischoff. But "Mr. Darby failed to get federal approval of his label, as required by the law. (Mr. Darby says he thought the brewer and distributor had taken care of that.)" Darby owns a hotel in Cody, Wyoming "built by Buffalo Bill in 1902." Darby "had to pull his beer from the market" while awaiting label approval.
The third company is affiliated with Bill Owens, but is not interested in fighting over the brand name. The brewery does not even seem to claim trademark on the brand name. The story says Owens has moved on from making beer and now runs a trade group for craft distillers ("It's much more fun to be involved with people making whiskey, vodka and absinthe, he says.") This may allow him to avoid a roundhouse kick, a six-shooter, and the swirling lawsuits.