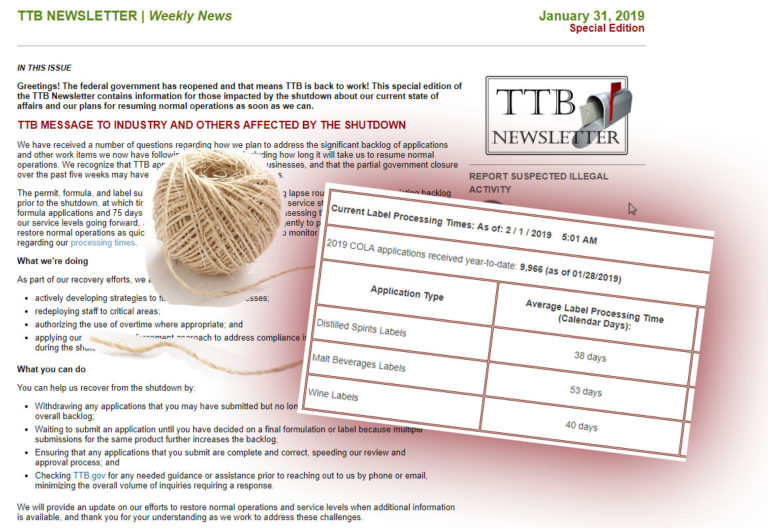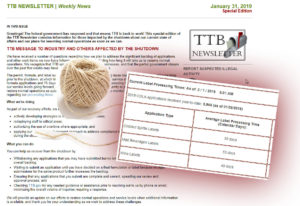 TTB yesterday put out a "Message to Industry" about label, permit and other backlogs caused by The 2019 Shutdown. TTB explained what it is doing, to try to alleviate some of the pain, such as allowing more overtime and re-prioritizing. The message goes on to list what industry members can do to help, such as scuttling applications you don't really need, or improving the quality of those applications.
We think we can add something major to the second list. Thus we are pleased to announce that starting today …
We agree:
To provide an ARTAL assessment on up to two labels per permittee, with no charge or obligation. (This means, advise you when it is allowable to use one label approval to cover a non-identical other label. ARTAL stands for allowable revisions to approved labels. A handy video is here.)
To do so within three business days of when you send us the new label, together with the most similar COLA you have. This can cut your wait time by 80% or more, with negligible risk. Send the items to colas@bevlaw.com.
This is open to big companies and small. It is open to existing clients and all others. If you need it faster than three days, we may be able to do so with or without a fee. In the event of any dispute about whether a COLA should have been required, we will either work with TTB to get it favorably resolved or seek the new COLA at no charge (our responsibility would not extend further for unpaid work). We will keep this offer open for up to 45 days from today and then re-evaluate based on wait times and other factors. Our website should make it clear that we have lots and lots of experience with all things COLA- and ARTAL-related, having handled many hundreds of ARTAL reviews over the years. We can also help with lots of other issues related to TTB's Message but not currently within the scope of this offer (such as advising when you can bypass the line for formula approval or how you can expedite paperwork in dire circumstances). We'd like to help for a variety of reasons but not least because it seems like none of this is TTB's fault.
If you have any questions about this, please direct them to colas@bevlaw.com, or come and say hello at the ACSA Convention in sunny Minneapolis next week. And as the image should make clear, no strings are attached.