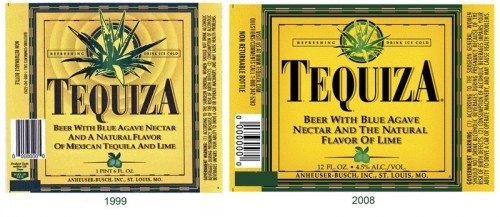 Sometimes, just one letter can make a big difference. As with TEQUIZA versus TEQUILA. One is beer and the other is quite different.
TTB/ATF first allowed this brand name in 1997, for a malt beverage with natural flavors. A 1999 approval is shown above on the left, and the most recent approval is on the right above. Just a few months after the the 2008 approval, Anheuser-Busch apparently killed Tequiza in favor of Bud Light Lime. At this point, it's gone almost without a trace, like Champale, Zima and other fading memories.
A lot of the branding stayed the same over the course of twelve years and 29 label approvals. But the legal description got trimmed considerably, during that time, to remove all references to the "NATURAL FLAVOR OF MEXICAN TEQUILA." This part apparently went too far for the Tequila industry, or TTB, to accept, even if the brand name and agave references did not.
By way of another example, from the movies, Little Fockers probably would not be PG-13 if spelled with a u.