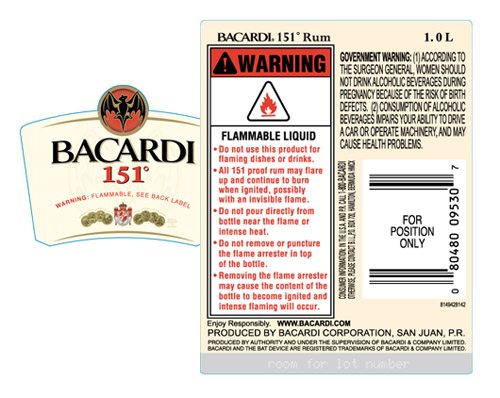 Bacardi revamped its 151 proof rum labels in May. At almost 76% alcohol, this rum is of course flammable as well as potent. The labeling includes not less than eight warnings to this effect. The bottle also includes a flame arrester.
One of the main warnings says, "Do not use this product for flaming dishes or drinks." It's a little bit like a Maserati with a warning that you should not exceed 55 mph.
We kind of thought flaming drinks were one of the main purposes for this product. If not, we went in search of the more conservative uses for this product. We found very little, with no trace of this product on Bacardi's US website. This group seems to have no idea what to do with it either.
At an even higher concentration of alcohol is Golden Grain Grain Alcohol. It is 95% alcohol and is also plastered with warnings throughout the front, back and neck labels. This is a rare example of TTB allowing warnings other than the specific health warning mandated by Congress (see this for an example of a warning not allowed). It's hard to say the extra warnings are not warranted here.