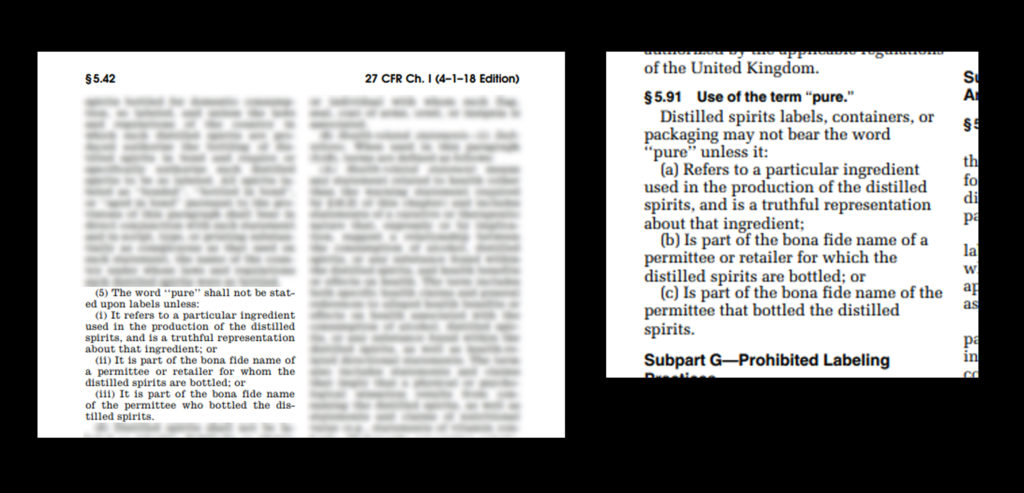 TTB proposed to modernize the beer, wine and spirits labeling rules in late 2018, in a sweeping 132 page document. I thought it may be useful to take one narrow provision at a time, and compare the old version to the new, proposed version. Today I will look at the long-time restriction on describing spirits as "pure."
The old version of the rule is at left, above. It's been in place for many decades at least. The new version is at right.
I would have expected to see some changes because the rule has always seemed a tad random. It is hard to understand what the government should have against this thoroughly ordinary word. It is especially peculiar when we consider that the rules (old or new) take no issue with describing a beer or wine as pure, yet shudder at the prospect of describing spirits in such terms. Another reason to look for changes in this rule is because TTB and ATF have struggled with it time and again since the 1930s. In 2005, TTB proposed to modify the rule; the 2005 notice explained that the government first published a rule on pure in April of 1936, then had hearings in May of 1936, then reconsidered the issue in November of 1978 and December of 1980 before settling on the current rule (at upper left) in August of 1984. Even though TTB aired this out yet again in December of 2005, it looks like the proposal did not go anywhere. It sat on the regulatory agenda for many years before fading out. After all this consternation, it is surprising that the rule bubbles back to the surface, largely unchanged. Maybe you see important changes as between the old rule on the left and the proposed rule on the right. But the changes look rather muted to me. I don't see significant substantive differences, and I don't really even see stylistic changes. The background discussion in the 2018 document does not mention any intentional changes. The closest thing to a substantive change, that seems apparent, is that the proposal explicitly asserts that the pure rule extends to not just labels, but containers and packaging as well.
There is yet one more reason to be surprised that the 2018 proposed rule so closely resembles the 1984 rule. Way back in 2005, TTB said:  "TTB considers variants of the word 'pure' such as 'purest,' 'purity,' and 'pureness' to fall within the purview of these regulations." It would have been so easy for TTB to cover this point in the 2018 document, and yet, one more time, this seems to be falling by the wayside.