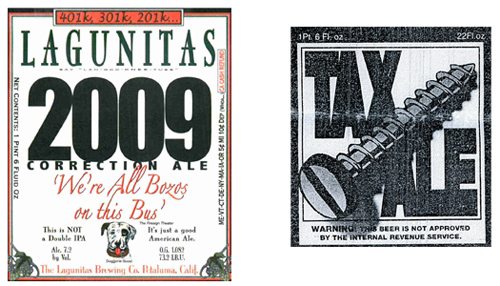 Here we have an embarrassment of riches. We didn't expect to see one beer label about the intricacies of the Internal Revenue Code — let alone two.
Tax Ale is a classic from way back in 1996 (hence the miserable photocopy). The fine print, below the big screw, says:
Warning:  This beer is not approved by the Internal Revenue Service. Brewed with compassion for Internal Revenue. … By the Special Audit and Brewing Company.
Ominously, BigHorn only lasted a few more years and got its last approval in 1999. Meanwhile, Lagunitas is still busy tweaking the government left and right. The top of the Correction Ale label seems to refer to section 401(k) of the Internal Revenue Code, and our dwindling retirement accounts. The text on the right side of the label says:
Who would ever [give] their money to a guy with a name like "Made-Off"? … If it was all too good to be true, it was. … OK, we all partied down and, YES, we took some liberties with some of our female guests. But now it's the day after Mardi Gras when everyone kneels down and prays. Apparently it really is possible to have too much fun. But it is far better to have partied and lost than never to have partied at all. Gracefully surrender the things of 2008. Smoke a fag, drink a beer, and buy toothpaste… in that order. Live to party again.
It sure seems like Tony Magee (company founder) knows how to have a good time.