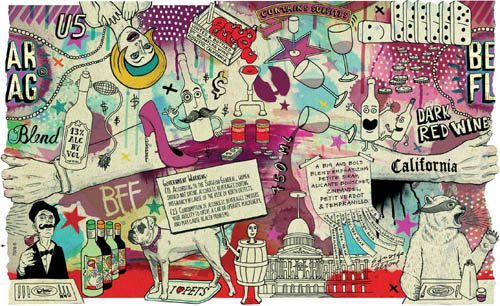 This Bear Flag label looks to be a big departure from the staid Gallo labels of decades past. The design of this "dark red wine" label does not seem to have a whole lot in common with, for example, this Carlo Rossi label from a few years back.
The newer, more whimsical labels are apparently designed by Eduardo Bertone. There is not a lot of information about this designer or this brand on the web. Even at Bertone's site, there seems to be a whole lot of whimsy and not much information.
To the extent the Bear Flag labels raise a good legal issue, it is fun to imagine Mr. Bertone poring over the CFR to make sure the Warning is perfect. Or, TTB evaluating each and every image and suggestion and flight of fancy (what is the bear drinking, does it contain tomatoes, please explain why a bear would have a cow bell). As of last week, Gallo had about 11 Bear Flag COLAs, from May 2009 to April 2010.