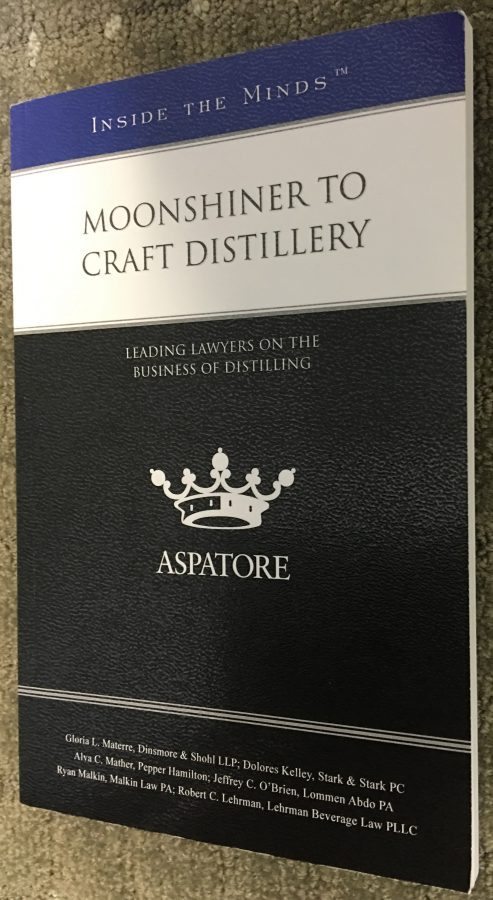 For a good, edifying time, grab a bottle of craft spirits, a beach — and this book.
The book is Moonshiner to Craft Distillery: Leading Lawyers on the Business of Distilling. Aspatore Books, a division of Thomson Reuters, published the book a few weeks ago. In this book, I am pleased to be in the good company of Ryan Malkin, Gloria Materre, Alva Mather, and other notable lawyers in the alcohol beverage law field.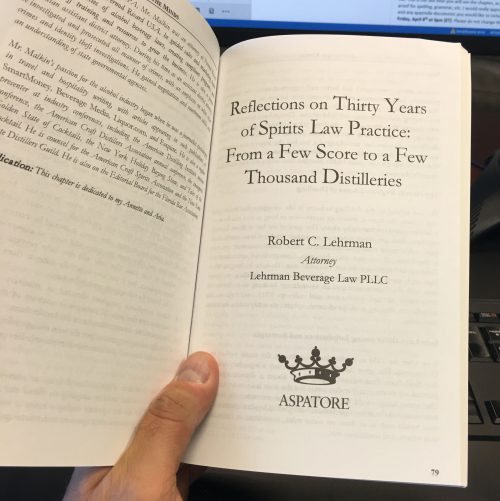 Here are a few excerpts from my chapter, entitled "Reflections on Thirty Years of Spirits Law Practice:  From a Few Score to a Few Thousand Distilleries."
Almost thirty years ago I got lucky and happened upon the hitherto unknown field (unknown at least to me) now known as beverage law. The years have passed quickly, and this is a testament to how challenging and interesting this field can be. Things have moved a long way during that time, from shuffling paper forms, digging through millions of words in black binders, and a country with a few dozen large distilleries. The law has not changed a lot, but the related law practice has changed dramatically, and so has the business climate.
This area of the law is more heavily regulated than any other aspect of consumer products law — more than guns, tobacco, or even pharmaceuticals. What other consumer product is the focus of not just one, but two, Constitutional amendments? Tobacco and marijuana do not rate even one. Thus, in looking at what laws apply most directly to moonshining and proper distilling, we must start with the Constitution and its amendment banning most forms of commercial alcohol production and sale in 1919, as well as its amendment allowing such production, subject to many rules, fourteen years later.
Federal distillery law is made up of the twin pillars of the Federal Alcohol Administration Act (FAA) which regulates labeling and permits, and the Internal Revenue Code, which obviously regulates taxes. There are hundreds of pages of regulations under the FAA Act alone, approximately fifty of which are devoted to spirits. Most of them are common sense. Even though some politicians may rail against the profusion of federal rules and intrusions, it is hard to see how anyone can deny that we need rules addressing what to do if an alcohol claims to be 80 proof, but is truly at 81 or 79 proof.
This installment of "Inside the Minds" is also available at Amazon, where it could soon be burning up the charts. Last I heard it was #1 in Books > Professions > Law > Food > Beverages > Distilled Spirits > Craft Spirits > Books Less Than 130 Pages > Books More Than 128 Pages.