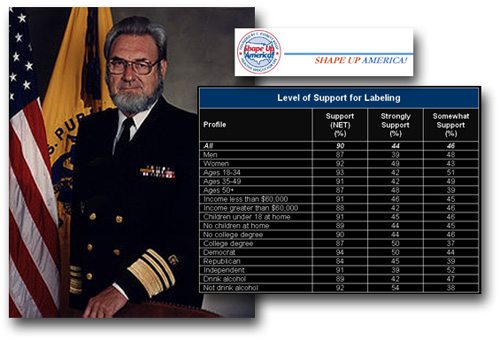 It is likely that all beer, wine and spirits labels will change dramatically in the near future. TTB has been working on new rules since CSPI and other groups submitted a petition in 2003. The new rules would require a "Serving Facts" panel on every container. This panel would include a lot more information, such as the typical serving size, number of servings per container, calories, carbohydrates, protein and fat. Because this is a big, controversial change, TTB has received more than 18,000 public comments during the past few years. There are far too many comments for most people to review, and so we will highlight and summarize the most noteworthy comments here. The most recent proposal and comments are here. This is comment 9 in a series; to see others, click on the "serving facts" tag below.
Shape Up America! is a non-profit founded by former Surgeon General C. Everett Koop, M.D.; its purpose is to promote a better diet. The group's comment said:
TTB's proposal leaves out critical data such as serving size, alcohol in grams, definition of "standard drink," and a moderation message. Without this, the proposal will fail as a public health tool.
The information is important to combat the obesity epidemic and to reduce alcohol-related mortality "which is the third leading cause of preventable deaths in the U.S." This is long overdue.
Consumers want and need the information. There is no discussion of the associated costs.
A "census-balanced" poll of 503 consumers showed that 90% believe the Serving Facts panel should be mandatory. Americans want "complete information about what is in beer, wine and distilled spirits."
For Dr. Koop's related video, see this.