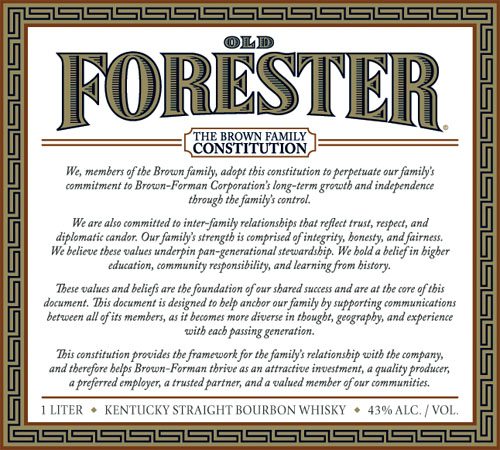 The Brown Family printed their Constitution on this Bourbon label, and the government ratified it late this summer.
The main point of the document seems to be keeping the publicly traded company under family control. Barron's has estimated that "The Brown family owns about 70% of Brown-Forman's Class A voting shares (BFA)." Six months ago The Wall Street Journal reported:
In an effort to ensure that it remains independent and under family control, liquor maker Brown-Forman Corp. is pushing to get family shareholders more involved in the company. … The effort is among the strongest in a growing number of family-controlled companies trying to better educate and unify family shareholders. … Today, there are 117 living descendants of the founder and 38 widows or spouses, the company says. … Potential suitors could include spirits giants Diageo PLC, Pernod Ricard SA or Bacardi Ltd.
The Sunday Paper explains that Old Forester Bourbon became America's first bottled bourbon in 1870. George Garvin Brown handwrote a guarantee and his signature on every bottle. Old Forester is named after Dr. William Forrester, a leading doctor in Louisville. It is:
the only bourbon legally produced and sold before, during and after Prohibition. From 1920 to 1933, its distillers held one of only 10 government permits that allowed production of bourbon for medicinal purposes. … When Prohibition was enforced, there were more than 200 distilling operations in Kentucky alone—all put out of business in one fell swoop. … The Old Forester strain of yeast is the oldest strain of yeast in the industry.
The Barron's article, from a few years ago, says "Brown-Forman's fortunes hinge on Jack Daniel's, which accounts for some two-thirds of profits. … Brown-Forman might not exist today, save for its purchase of Jack Daniel's for $18 million in 1956."