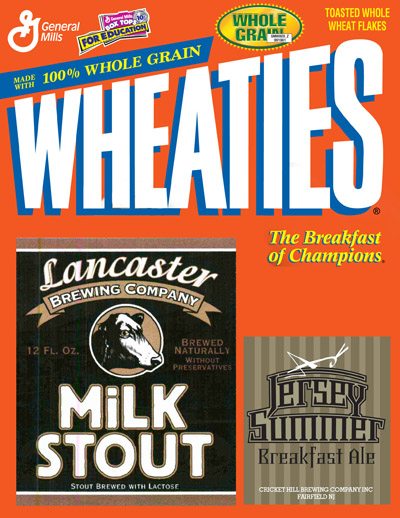 If you're getting a little weary of "Toasted Whole Wheat Flakes" it might be time to consider Lancaster Milt Stout. It's made with lactose and without preservatives according to the label. Wki explains:
Milk stout (also called sweet stout or cream stout) is a stout containing lactose, a sugar derived from milk. Because lactose is unfermentable by beer yeast, it adds sweetness, body, and calories to the finished beer. Milk stout was claimed to be nutritious, and was given to nursing mothers, along with other stouts, such as Guinness. The classic surviving example of milk stout is Mackeson Stout, for which the original brewers claimed that "each pint contains the energising carbohydrates of 10 ounces of pure dairy milk". In the period just after the Second World War when rationing was in place, the British government required brewers to remove the word "milk" from labels and adverts, and any imagery associated with milk.
Another choice, and not necessarily a good one, is Jersey Summer Breakfast Ale. It's made by Cricket Hill Brewing of Fairfield, NJ. Their blog describes it as:
A breakfast ale as fresh and full with flavor as a day down by the shore. … Pairs as well with bacon and eggs as it does with a back yard barbecue, and a delicious accompaniment to your morning coffee and a wonderfully refreshing alternative to your watery yellow lawnmower beer.