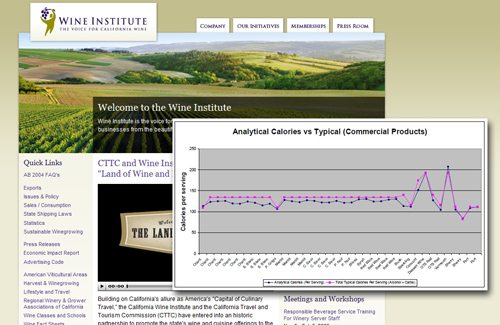 It is likely that all beer, wine and spirits labels will change dramatically in the near future. TTB has been working on new rules since CSPI and other groups submitted a petition in 2003. The new rules would require a "Serving Facts" panel on every container. This panel would include a lot more information, such as the typical serving size, number of servings per container, calories, carbohydrates, protein and fat. Because this is a big, controversial change, TTB has received more than 18,000 public comments during the past few years. There are far too many comments for most people to review, and so we will highlight and summarize the most noteworthy comments here. The most recent proposal and comments are here. This is comment 8 in a series; to see others, click on the "serving facts" tag below.
Wine Institute is the trade association of over 1,000 California wineries and affiliated businesses. Wine Institute's 34-page comment said:
Serving facts should not be required. 20 years after putting similar information on food labels, at a cost of about $2 billion, Americans are more obese than ever.
Some comments link the US Dietary Guidelines with a "standard drink." This is inappropriate because the term has never appeared in any edition of the Guidelines.
The 18,000 or so form-generated comments, in response to the advance notice, should carry little weight.  They lack credibily and sincerity.
TTB should maintain the allowance for some wines to refer to "table wine" rather than requiring a more precise alcohol by volume statement "across the board." The more flexible rule saves wineries money by allowing them to print labels well in advance.
The 5 ounce serving size for wine should apply to wines up to 16%, rather than 14%.
TTB should allow "typical values" rather than lot-by-lot analytical values; there is very little gap. Testing every type could cost a medium-sized winery $125,000 per year. This would impose a severe and much higher burden on the wine industry, compared to beer and spirits, because wine is "inherently variable in composition." Lot-by-lot testing would also lead to substantial delays, as winemakers attempt to twist the blend to conform to the label.
A three year phase in is helpful but by no means removes the costs. The serving facts panel is likely to require larger labels (about 40% larger). Larger labels could add 0.5 to 1 cent per bottle in label costs alone. A linear format would help and should be allowed.