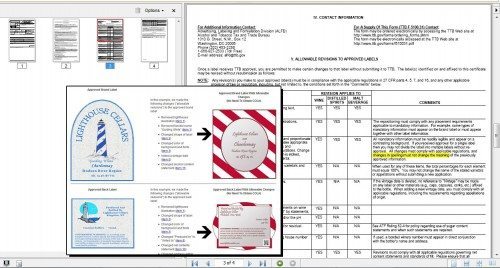 In early July TTB announced a massive and important change to the COLA system. TTB greatly expanded the "Allowable Revisions to Approved Labels" (hereinafter "ARTAL," as on page 3 of the new 4-page COLA form).
TTB began laying the groundwork for big "streamlining" changes in early 2012, as summarized here. Although some of the ideas seemed very modest as of then, the streamlining train clearly picked up momentum in the next few months. It seems entirely possible that some of the new changes could or should cut a very large percentage of the more than 10,000 labels submitted to TTB every month. Compared to a few years ago, it is quite amazing that the lighthouse label on the left (above) could change to something as different-looking as the striped label on the right — without any need for a new COLA.
The TTB ID number on this label, for example, shows that TTB received at least 671 label applications on just one day in April 2012 — to say nothing about the labels submitted via paper. That should not happen anymore. Instead, applicants should get familiar with ARTAL. It can eliminate lots of waiting, expense, frustration, inconsistent determinations, TTB work and applicant work.
In my view, the biggest changes to ARTAL are these. Now, it's ok to:
move things, as at 2.
change typesizes and fonts, as at 3.
change colors and spelling, as at 3.
shift amongst paper v. painted v. etched, as at 3.
make one COLA cover all sizes, as at 10. (Previously, the table said "separate applications must be submitted for containers of 237 ml or less, containers over 237 ml to 3 liters, and containers over 3 liters.")
add/delete/change awards and medals, as at 27.
ARTAL is much more powerful now. Like other powerful things, such as a chainsaw, it can do great things when used carefully — and make big problems when used improperly.