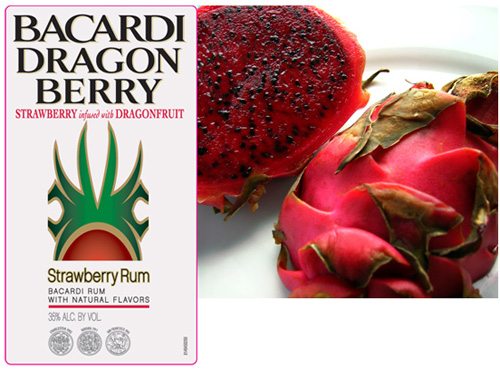 What on earth is a dragonfruit, and do you want any in your rum?
It is "an outlandishly flaming pink, spineless cactus fruit that looks like an artichoke from Mars." This is according to David Karp, "The Fruit Detective." Karp was very early in calling this still-budding trend. He is credited with familiarizing Americans with this fruit. Way back in 2002 he said "Improbably enough, it's now the object of a mad scramble, one of the most colorful booms in California's agricultural history, replete with paranoia and intrigue."
His article, in the Los Angeles Times, is so good, especially as compared to the other information readily available, that we will quote it at length. Karp explains:
The mango did it. The Meyer lemon did it. Over the years, many fruits have crossed the barrier from exotic rarity to become available to all of us. … Now there's a new one poised to make the leap, and it's safe to say it is the strangest one yet.
The texture of the flesh is similar to kiwifruit, though its subtle flavor and refreshing juiciness are really more reminiscent of watermelon. … "It's so visually stunning that our customers are intrigued by it," said Bill Yosses, pastry chef of Citarella restaurant in New York, who has used wedges of the fruit to garnish a trifle.
California pitahaya cultivation is still in its infancy. … The planting that is largest and furthest along is the 18 acres grown by the Dragon Fruit Co. in Borrego Springs, 25 miles west of the Salton Sea. … The partners are determined to be the first commercial producers of pitahayas and dominate the market, before supplies increase and prices drop. … "For something this special, they don't care what it costs," said Omar Reynaga, a salesman.
The French brought pitahayas to Vietnam a century ago, and many new California growers are immigrants who knew the fruit in their homeland. … Fresh pitahaya has not been legally imported into the United States because it is a host of fruit flies that could damage domestic agriculture. … Companies in Vietnam and Thailand recently signed contracts for the construction of electron beam irradiation facilities that could zap the pests in pitahaya and other fruits, allowing them to be exported to the U.S.
For some crazy reason, Google seems to say that nobody links to Karp's article. If nothing else, we and Bacardi can rectify that outlandish, flaming injustice.