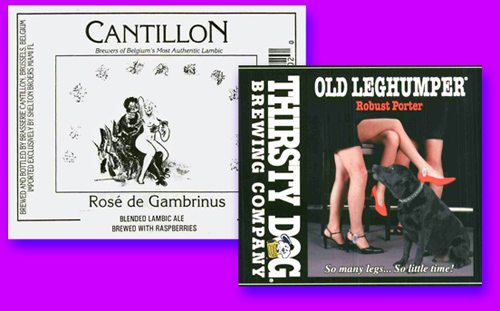 Poor TTB. They have to make a decision about every cotton-picking label that comes down the pike. And every now and then they have to bite their tongue and affirmatively approve labels they might otherwise prefer to ignore. By contrast, FDA can simply ignore all the inconvenient labels.
But for the requirement to review and approve every alcohol beverage label before it goes to market, TTB could have tried to ignore the naked lady in flagrante delicto on the Cantillon label. The State of Missouri was not amused and filed a complaint, in the late 1990s, charging that the label is obscene:  "The label for Gambrinus shows a drawing of a naked woman, with breasts visible, seated on the lap of a figure alleged to be Gambrinus, the Flemish mythological 'king of beer.'" After a hearing, the Commissioner apparently decided the label did not violate Missouri law, and other states came to a similar conclusion.
The Commissioner had the choice to ignore the label. The current federal law often leads directly to TTB affirmatively approving a motley collection of Leghumpers and Ball Busters. Somehow I doubt the drafters of the FAA Act envisioned this scenario.