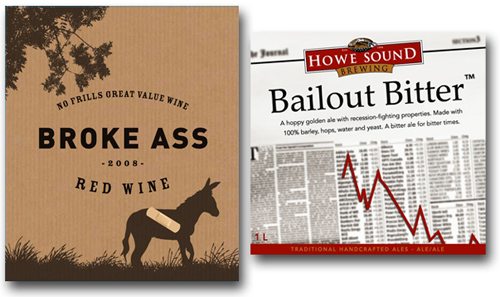 A few weeks ago we wrote about Recession Red table wine. We were sort of hoping we would have no reason to revisit this woeful topic anytime soon. And yet the markets have continued to shrivel, and so, not surprisingly, a significant number of alcohol beverage companies have picked up on this theme.
Broke Ass Red Wine (above) is made in Argentina and imported by USDP of Minnesota. On the right, the Bailout Bitter Ale says:
A hoppy golden ale with recession fighting properties. … A bitter ale for bitter times.
We have trouble discerning a health claim in these words. And yet, the applicant felt compelled to state (at box 19):  "The brewery certifies that it is absolutely not making any representation on health benefits on this … product."  An important clarification, we think — just in case the public might think the ale could cure athlete's foot or the ailing world economy. Bailout Bitter is made in Canada and imported by KIAI of Atlanta.


[polldaddy poll=1451404]