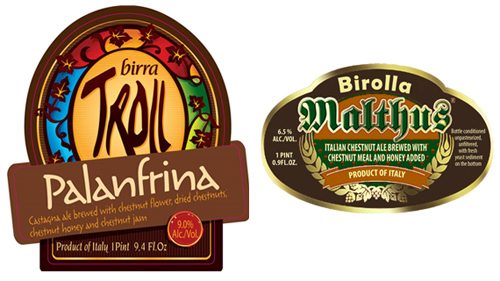 Maybe it's time to give the good old chestnut a chance. I have walked right by the roasted chestnut vendors of Manhattan on innumerable occasions. Halfbakery explains the allure:
I live in NYC and I love roasted chestnuts. In fact, many people love roasted chestnuts in NYC. There's nothing better than walking along the crowded streets on a cold, wintery day holding a hot bag of chestnuts and plunging your teeth into naturally sweetened and soft chestnuts. The only problem is they're sold only in midtown Manhattan by those street vendors who sell hot dogs too. More specifically, on 5th avenue and 53rd street. That's the only place in Manhattan you can get these goodies. It's a shame more New Yorkers can't enjoy roasted chestnuts more frequently. … My point is is roasted chestnuts are a blessing and should be shared. That's it.
B. United International seems to be well aware of these charms, and has a good handle on malt beverages loaded with chestnut. Palanfrina is Ale Brewed with Chestnut Flower, Dried Chestnuts, Chestnut Honey and Chestnut Jam. It's made by Birrificio Troll in northwest Italy. The back label has a more detailed ingredient list.
Similarly, Birolla Malthus is Italian Chestnut Ale Brewed with Chestnut Meal and Honey. It's made 186 miles north, in Como, Italy and it is also imported by B. United.