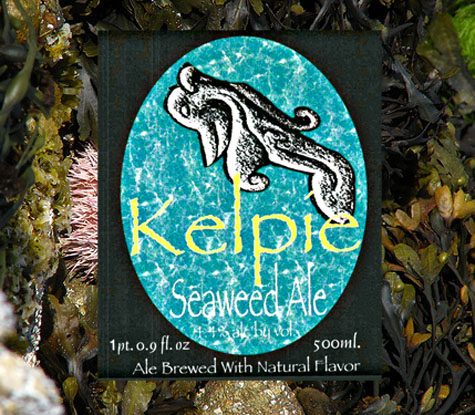 Here is Kelpie Seaweed Ale, made in Scotland and imported by Legends Ltd. of Baltimore, MD. The back label explains that the ingredients are:  malted barley bree, hops and seaweed. The late and noted beer aficionado, Michael Jackson, described it this way:
The new product has a mahogany color; a slightly ash-like aroma; and some sour-and-sweet seaweed notes over the fruitiness and maltiness of a Scotch Ale. The seaweed, harvested in the Western Highlands, is used in the mash tun. The idea is to replicate the flavors that might have arisen when island crofters used seaweed to reinforce the soil in which they grew barley. The beer is not intended to have the medicinal, iodine-like, seaweed character of an Islay whisky like Laphroaig.
Many thanks to Tracy F. Several readers suggested this label but she was first.