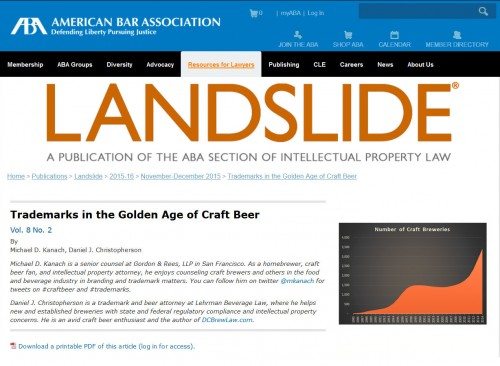 I am pleased to report that Dan Christopherson is featured in the current issue of Landslide. This is the magazine of the American Bar Association's Intellectual Property Section. The article is entitled "Trademarks in the Golden Age of Craft Beer." Dan is a hardcore craft beer lawyer at Lehrman Beverage Law, and he has more than eight years of highly relevant trademark experience. He wrote the article with Michael Kanach, Senior Counsel and craft beer lawyer at Gordon & Rees in San Francisco. Here is an excerpt from the article:
Even the most devout craft beer fan may not be aware of the volume of trademark disputes in craft beer today. The number of disputes is likely to increase with thousands of existing and planned breweries (not to mention other beverage producers) fighting for an increasingly small pool of quality names. While many of these "disputes" are quickly handled over a beer, opposition and cancellation proceedings and federal trademark lawsuits are becoming more common.

Below are six important lessons in branding for the craft beer industry, including the interactions between its competitors (or collaborators), the personalities of its customers, and the countless legal restrictions and requirements at the state and federal levels. Each of these elements is important to branding because each of these constraints on creativity can be costly if they are not taken into consideration.
The article goes deeper than the run of the mill platitudes about being careful, or calling a lawyer. For example, the article says you should not be overzealous in filing trademark applications:
Sometimes the best advice a trademark attorney can give a client is that it should not file a trademark application. Trying to lay claim to a name that is either (a) already being used by a competitor, or (b) a common beer term can, at best, make your client look bad in the public eye or, at worst, land your client on the wrong end of a trademark dispute. Craft … beer fans can be passionate, loyal, and outspoken about their allegiances, particularly when the defendant is a small, local brewery.

Filing a trademark application may provoke a competitor to take action against you. Innovation Brewing in Sylva, North Carolina, recently found itself involved in such a dispute after it filed a trademark application for the mark INNOVATION BREWING for "beer." Unfortunately for [Innovation, Bell's Brewery] owns two trademark registrations for INSPIRED BREWING, and claims common-law rights to the phrase BOTTLING INNOVATION SINCE 1985 in connection with beer. Bell's might not have taken any action against Innovation Brewing, or even noticed it, if Innovation Brewing had not tried to register its name as a trademark. Now, instead of dedicating its undoubtedly limited startup funds to developing its new business, it is now entrenched in an expensive fight over its name.
For anyone involved with beer, wine, spirits or other food branding, it is well worth reading the entire article, continued here.