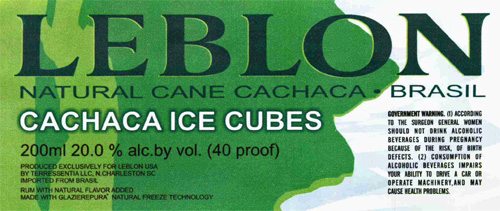 Here is Leblon Cachaca Ice Cubes. It is Brazilian rum (with flavor), in a 200 ml. pack designed to freeze.
This should be of interest to Camper English at Alcademics, as he is inclined to tinker with all manner of alcohol beverages and ice.
The label says this product is "Made with Glazierepura Natural Freeze Technology." BevNetwork explains that Glazierepura is a newly patented technology that can "freeze any alcohol and does not affect the flavor profile of the spirit." Even though this Leblon product is only 40 proof, the technology would allow, for example, making ice cubes out of vodka — or even Single Malt Scotch. The US-Israeli company behind this technology partnered with Leblon for the offical US launch, on April 27, 2009 in New York.