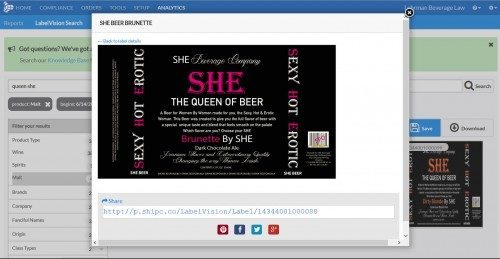 I have been a lawyer for almost 30 years now. We don't handle a lot of litigation — but this controversy du jour raises a question. Do not court claims need to pass some red face tests? Can we allege just about anything we want, if we have a PC and a filing fee? AKA:  Does this (above) look like Bud to you? If not, should legal theories be so divorced from reality that a multinational company should be able to tell a tribunal that it does?
Bud has recently alleged that the above labeling and theming tends to confuse people about how closely this beer relates to "The King of Beers." In the August 19, 2015 TTAB Opposition, A-B lashes out, claiming that The Queen of Beers has no COLAs:  "upon information and belief, Applicant had not applied for – and still has not applied for – a federal Tobacco Tax and Trade Bureau label for its beer, which label is required to distribute alcohol interstate in the United States." But A-B should definitely get a copy of LabelVision. With LabelVision it took less than a minute to find several such Queen of Beer COLAs, issued more than six months ago, for the She Beverage Company of Lancaster, California (defendant/applicant).
A-B claims it has been using KING OF BEERS as a trademark since at least 1951, and has about six relevant registrations, many of them incontestible. A-B asserts that "Applicant's THE QUEEN OF BEER mark so closely resembles Opposer's prior used and registered KING OF BEERS Marks as to be likely, when used in connection with the goods set forth in the Application, to cause confusion, or to cause mistake, or to deceive under [the Lanham Act]."
The St. Louis Post-Dispatch talked to the trademark applicant, and she said:
"There is no 'Queen of Beer,' and we're a female-owned company," she said. "I didn't anticipate Budweiser getting their panties in a bunch."
Rose said she'll continue to pursue the trademark.
"It's important for us to fight," she said.
A-B already owns well more than 40% market share of beer in many countries. Should the company also be allowed to own KING OF BEERS, QUEEN OF BEERS, and — to use their own words — other terms "indicating supremacy, preeminence, and/or eminency" as to beer?
Poll here. TTAB documents available upon request.