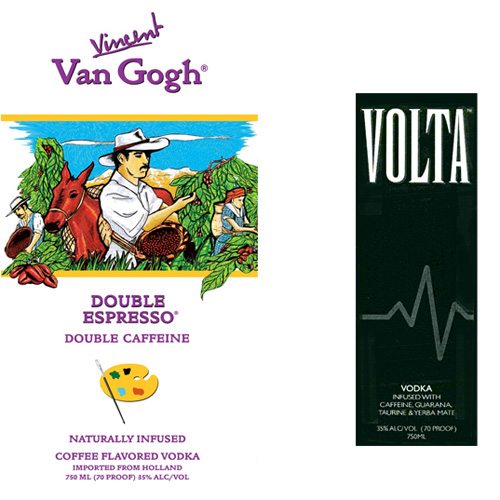 Not content with simply adding coffee flavor to vodka, Vincent Van Gogh went further, all the way to "Double Caffeine." Not so long ago, it was not clear that TTB would allow caffeine to be added to alcohol beverages, let alone to double it up and proclaim it on the label.
Van Gogh coffee flavored vodka is one of about 18 flavored vodkas made in Holland and imported by Luctor International of Orlando, Florida. The other caffeinated spirit above is Volta. It is Vodka Infused with Caffeine, Guarana, Taurine & Yerba Mate, made by White Rock Distilleries of Lewiston, Maine.
Van Gogh Double Espressso is easy to find at retail, but Volta is less easy to find. All the extra caffeine may have gotten this retailer a bit over-excited; IWS describes it this way:
Double Intensity. Experience the finest tradition of Venice with the high art of great taste. … Delivers a wealth of flavor for those who expect more from their coffee – powerful yet sophisticated, with the stronger and richer character demanded by the espresso lover's highly developed palate. Here is all the smooth brilliance of great caffé, in the only FDA-approved vodka on the market today with the bold touch of double caffeine.