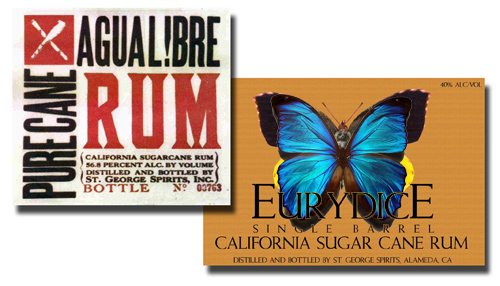 Most of the world's rum is produced in the Caribbean. Not a lot has been made in the US.
But lately there are signs of incipient production in California. Here are two:  Agua Libre and Eurydice. Both are made by St. George Spirits in Alameda, California. A Swedish blog explains:
Eurydice starts with the fresh-pressed cane juice of 100% California-grown sugar cane. The cane, grown in Southern California, is harvested and crushed at St George Spirits' Alameda facility where it is fermented with two strains of wine yeast designed to accent the fruit and floral notes of the cane.
It is good to see that TTB is not asserting that an appellation may not be indicated. On some occasions TTB has asserted that vintage-, varietal-, and appellation-type claims should not be made on distilled spirits products because these subtle characteristics are not discernible after distillation.