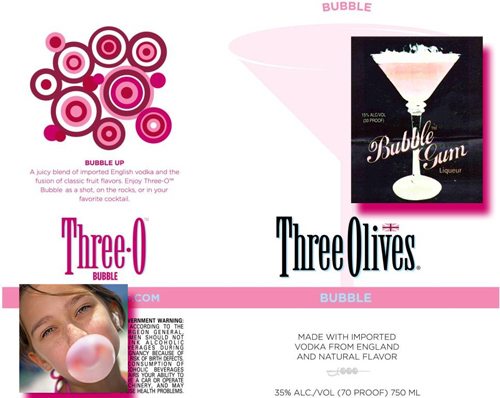 In recent days a few industry veterans expressed concern about a new distilled spirits specialty with the flavor of bubble gum. Here are two. The newer one is Three Olives Bubble. The label and website don't mention gum, but this blog confirms that it tastes like Bazooka, and the packaging certainly reminds me of bubble gum.
The other one is Bubble Gum Liqueur, bottled by M.S. Walker of Somerville, Massachusetts. This one does not eschew the use of the word "gum," and refers to Bubble Gum at least half a dozen times.
It strikes us as reasonable to evaluate whether gum and candy are so irresistible to children that they are inappropriate on alcohol beverage labels or as main flavors. But in the next post we will show that these two products are not so unusual. There are a great many alcohol beverage products referring to candy — even without counting the hundreds or thousands of chocolate products.