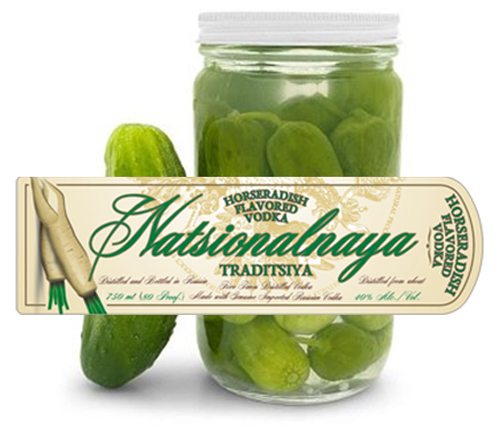 Here we have a bit of a condiment theme. Above is horseradish flavored vodka. And here is pickle flavored vodka. Probably not what your grandfather drank, back when vodka was vodka and pickles had little to do with it.
At this point, we would guess that there are well over 75 flavors of vodka, above and beyond the common citrus and pepper flavored vodkas.
Michel Roux correctly forecast this trend way back in 1996. The article is entitled "The future, according to the marketer of Stolichnaya, will be filled with flavored vodka." Roux is frequently cited as the marketing force behind the rise of Absolut, Stolichnaya, Absente and many other brands.
Garant Pickle Flavored Vodka is made in Russia and imported by Interbalt of Maryland. Natsionalnaya Horseradish Flavored Vodka is also made in Russia and is imported by Devo Enterprises of Horsham, Pennsylvania. How much longer until we have ketchup, mustard and wasabi flavored vodka?