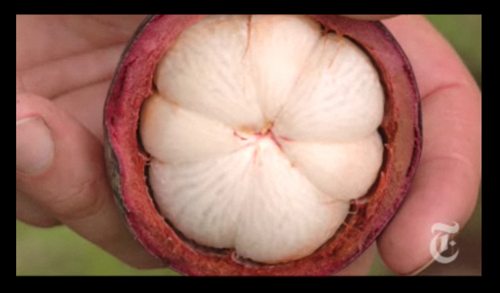 In the last post, we showed a pineapple wine from Radee. As in the image above, Radee also imports a wine fermented from mangosteen.
The New York Times has a good introduction to the mangosteen in this video. It features an ethnobotanist and explains that this fruit was banned from the United States until a few years ago.
In other unusual ingredients, a Cooperstown, New York brewer makes an ale with mace, among other spices such as grains of paradise. Mace is similar to nutmeg but is not the same. The nutmeg tree is the source of both spices and is one of very few plants that produce more than one spice; nutmeg comes from the tree's seed and mace comes from the seed's cover. Ommegang's Adoration Ale also features coriander and cardamom according to the label, and cumin according to the website.