Last week, a federal judge in California tentatively dismissed a class action suit against MillerCoors. Yesterday, the judge made that dismissal final.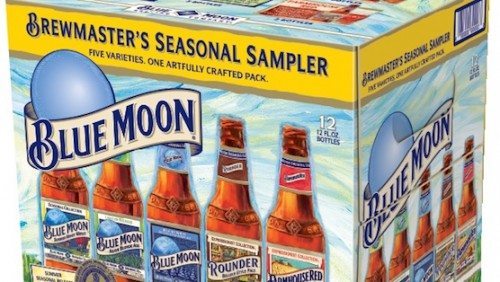 The case, Parent v. MillerCoors LLC, began in March when plaintiffs—a class of Blue Moon purchasers—alleged that Miller misled consumers into believing that Blue Moon is a craft beer. Plaintiffs argued that Miller's reference to "Blue Moon Brewing Co." on the beer's label and use of the phrase "artfully crafted" in the beer's advertising led consumers to purchase Blue Moon believing it was craft. Miller defended that the practice of listing its assumed name, "Blue Moon Brewing Co.," on its label instead of its full business name is specifically permitted by state and federal law, and that consumers could not reasonably rely on the phrase "artfully crafted" as a guarantee that Blue Moon is craft beer.
Judge Gonzalo P. Curiel of the United States District Court for the Southern District of California tentatively agreed with Miller on both points last week, pending a hearing on the matter last Friday. Apparently, plaintiffs' oral argument at the hearing failed to change Judge Curiel's mind, as he issued an order yesterday dismissing the case.
Regarding TTB's approval, Judge Curiel noted that TTB regulations "specifically permit a beer bottle and outer packaging to show, by label or otherwise, the name or trade name of the brewer." Because California allows the name of a manufacturer to include a duly filed fictitious business name, Judge Curiel held that Miller's use of "Blue Moon Brewing Co."—a name properly registered as a fictitious business name in California—is specifically authorized by federal and state regulations. Accordingly, TTB approval provided Miller with a safe harbor.
Regarding the issue of whether Blue Moon fits within the definition of "craft beer" (a point of contention between the parties), Judge Curiel sidestepped the issue, stating, "… even assuming that there is such a definition, Plaintiff cannot rely on it for their argument" since plaintiffs are not pointing to Miller's use of the phrase "craft beer," but instead to their use of the different phrase "artfully crafted." Regarding Miller's "artfully crafted" claim, Judge Curiel held that the phrase is mere puffery, as it is not capable of being reasonably interpreted as a statement of objective fact. Unlike objective statements of fact, puffery refers to generalized, vague terms that cannot serve as the basis of a lawsuit.
Plaintiffs did secure one small victory, mentioned in the final order but absent from the tentative ruling: Judge Curiel found that their complaint met the heightened pleading requirements required of complaints that allege fraud. Unfortunately for the plaintiffs, this point is moot, as their allegations (well-pled though they may be) still fail to state a valid claim for relief.
Importantly, Judge Curiel distinguishes TTB approval in this case from TTB approval in Hofmann v. Fifth Generation, Inc., a case involving Tito's "Handmade" Vodka. In Hofmann, the court found that there is no federal regulation that specifically authorizes the use of "handmade" on the label, and so the safe harbor did not apply. Regarding Blue Moon, Judge Curiel says, "Here, the conduct challenged by plaintiff is the same as the conduct authorized by law: Miller's listing of 'Blue Moon Brewing Co.,' rather than MillerCoors, as the manufacturer on Blue Moon's bottle and packaging." Judge Curiel's opinion suggests that in cases where TTB has duly applied specific regulations, courts will defer to TTB approval and will apply the safe harbor. On the contrary, where TTB does not have specific regulations in place, courts will be skeptical of TTB approval and may require the defendants to show that TTB actually reviewed and approved the statements at issue. The forthcoming decision in Hofmann should shed more light on this particular issue.
Parent was dismissed without prejudice, which means that plaintiffs have 30 days to submit an amended complaint against Miller. The judge directed the plaintiffs not allege claims regarding Miller's use of "Blue Moon Brewing Co." or the "artfully crafted" trademark.