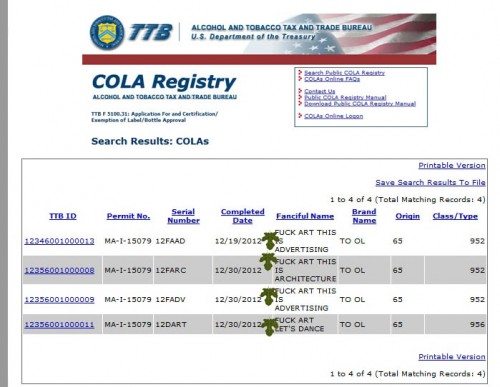 Way back in mid-December of 2012 I would have considered this Shelton Brothers COLA to be, perhaps, an aberration. But upon checking it again, today, I see a few more COLAs with the same word — arguably in need of the fig leafs above.
It is hard to believe that the government did not see the word at issue. On the above-linked COLA it appears no less than three times. This may signal that, as social mores liberalize and budgets shrink, the government has bigger (or fewer) fish to fry. Clearly, it signals that Daniel Shelton does not mind pushing the envelope, or many. The Amherst College magazine unabashedly explains that, after graduating from Amherst, Shelton:
went to a prestigious law school … then clerked for a judge (on a tropical Pacific isle, of all places) and finally secured a position at a venerable firm in Washington, D.C. (but convinced Shea & Gardner that he needed to spend a year bumming around Africa before starting.) … "My Amherst education has not been wasted at all. I use it more in this business than I ever did in lawyering. I never was completely comfortable with the idea of being a lawyer, anyway."
This creaky old regulation still prohibits any beer labeling that is "obscene or indecent." At this rate, however, it is difficult or uncomfortable to imagine something that goes too far — or too far for Dan. Many thanks to Mark for showing me these labels.