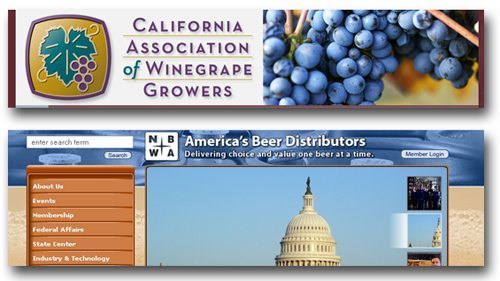 It is likely that all beer, wine and spirits labels will change dramatically in the near future. TTB has been working on new rules since CSPI and other groups submitted a petition in 2003. The new rules would require a "Serving Facts" panel on every container. This panel would include a lot more information, such as the typical serving size, number of servings per container, calories, carbohydrates, protein and fat. Because this is a big, controversial change, TTB has received more than 18,000 public comments during the past few years. There are far too many comments for most people to review, and so we will highlight and summarize the most noteworthy comments here. The most recent proposal and comments are here. This is comment 12 in a series; to see others, click on the "serving facts" tag below.
The California Association of Winegrape Growers (CAWG) represents about 50% of California's winegrape growers, by tonnage. CAWG's 1-page comment said:
We oppose mandatory serving and nutrition labeling requirements.
The rule would impose major costs and disruptions related to testing of products with "tremendous variability."
TTB should be skeptical about the large number of form-generated comments in support of the rule.
The National Beer Wholesalers Association (NBWA) commented on behalf of the nation's 2,750 beer distributors. The NBWA's 3-page comment said:
TTB should remember the "primacy of state alcohol regulation," over federal, when "addressing this complicated and challenging issue."
A standard drink graphic is not appropriate; it is misleading to suggest that one type of alcohol is the same as another. "A shot of grain alcohol does not equal a light beer."
TTB should allow a linear display.