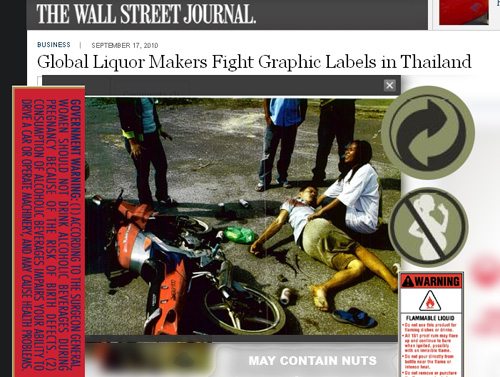 If you like your warnings big and graphic, you will love the alcohol beverage warnings under consideration in Thailand. The Wall Street Journal of September 17, 2010 shows the photo above, as an example of one of the warnings under consideration.
If you think it can't happen here, take a look at this tobacco website which explains: "New legislation passed in June 2009 requires pictorial health warnings on 50% of the front and back of US cigarette packages within 24 months, in addition to a 15 month implementation window." At least 13 countries already require graphical warnings to cover more than 50% of the cigarette pack. At least 38 countries have finalized requirements for picture warnings.  The Wall Street Journal article explains:
Alcohol companies world-wide are lining up to fight a Thai plan to require graphic warning labels about alcohol on the country's domestic and imported beer, wine and liquor bottles.
The proposed labels—which would cover 30% of the bottles' surface area—include unusually explicit warnings about risks associated with alcohol use. One picture shows a shirtless man grasping a woman by the hair and raising his fist to hit her, accompanied by the words, "Alcohol consumption could harm yourself, children and family."
The labels "are the most extreme we've ever seen," says Brett Bivans, vice president of the International Center for Alcohol Policies, a Washington-based not-for-profit group funded by alcohol companies.
In the meantime, liquor companies worry that Thailand is about to set a dangerous precedent that other larger countries could follow. With only 65 million people, the Southeast Asian nation will never be one of the world's biggest alcohol importers. But in 2005, it was among the first to slap graphic warning labels on cigarette packaging, such as pictures of diseased lungs. Since then, the U.K., Malaysia and other countries have followed suit.
The stakes are high enough that the U.S. government agreed to pay for a group of Thai officials to travel to Washington to meet with U.S. alcohol experts to learn about alternatives to graphic warning labels, people familiar with the plan say.
Health advocates and industry leaders have long argued about the effectiveness of warning labels on consumer products. Critics maintain that graphic labels lose their sting once consumers grow accustomed to them.