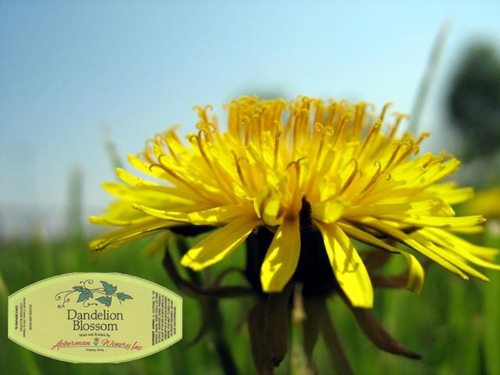 Today we have dandelion wine. This piqued our interest because we have heard faint murmurings about dandelion wine for many decades but never really tasted it or knew much about it, so we thought it was time to get a handle on the situation. As it turns out, the murmurings seem to have more to do with Ray Bradbury's 1957 novel of the same name, and less to do with the popularity of this wine.
We find very little information about the history of this wine. Bigger Than Your Head describes it as well as anyone else we could find:
The closest I have come to a glass of dandelion wine was reading Ray Bradbury's evocative novel about Midwestern small-town life, Dandelion Wine, about 50 years ago. … One expects a flower wine to be sweet, and this was, but it wasn't as sweet as I had anticipated. In fact, I found it delicate, finely structured and just balanced by clean acidity. Aromas of spiced pear and fig wafted from the glass, with hints of dusty meadows. In the mouth, those spiced pear and fig qualities persisted, with touches of something wild and foxy, a little weedy, all of this encompassed by a texture that was almost oily. The finish brought in cinnamon and hay. It felt as if I were sipping the essence of a sunny summer's afternoon on a blustery Fall day.
TTB has approved quite a few dandelion wines, and even some dandelion beers. The beer is made by Northern Ales of Northport, Washington. The dandelion wine is classified as an agricultural wine and made by Ackerman Winery of Amana, Iowa.