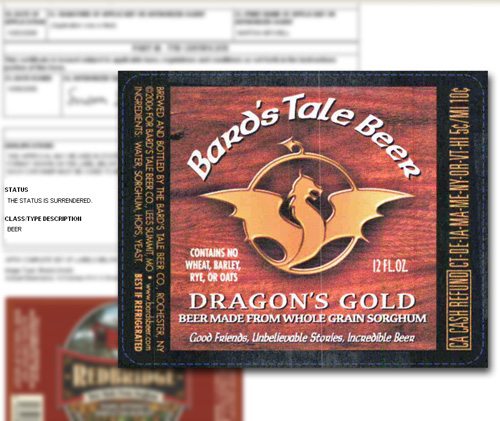 This label was pretty good until about a year ago.
Then TTB decided it's not really a "malt beverage." TTB decided this because Bard's Tale Beer is made without malted barley. TTB Ruling 2008-3 explains that a brewery product can not be a "malt beverage," subject to TTB label rules, unless it contains hops and malted barley.
Bard's Tale is made with sorghum instead of malted barley because those with Celiac Disease can not tolerate the gluten common to barley. In July of 2008 TTB handed the issue to FDA by publishing the Ruling. About one year later, in August of 2009, FDA accepted the issue by publishing a Draft Guidance on "Labeling of Certain Beers." In this document, FDA explains that certain beers are subject to FDA's labeling rules and are not subject to the FAA Act rules enforced by TTB. As a result, such beers don't need TTB label approval but they do need a statement of ingredients, allergen labeling, nutrition facts, and a Government Warning.
It gets confusing. Some beers are TTB and some are primarily FDA. Some wines are TTB and some are primarily FDA. At least we can take comfort in the fact that all spirits are TTB. Unless they are non-potable (as in cooking spirits or flavors) — in which case once again they flip over to FDA for their main labeling regulation.
As a result of the tossing and turning noted above, the current status of the Bard's label above is — "surrendered." Here is an example of Anheuser-Busch's comparable product (Redbridge), without malted barley. It is also "surrendered" and handed off to FDA.