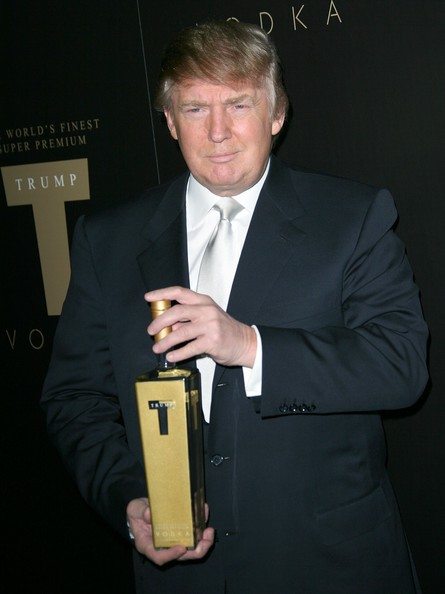 Trump is riding high in the polls at this very moment. So high that Mitt Romney just attempted to slow Donald's roll, by saying "what ever happened to Trump Vodka?" Indeed. All faithful readers of this blog had to know that the 2016 contest would eventually come down to matters of spirituous liquors. Mitt said:
But wait, you say, isn't he a huge business success that knows what he's talking about? No he isn't. His bankruptcies have crushed small businesses and the men and women who worked for them. He inherited his business, he didn't create it. And what ever happened to Trump Airlines? How about Trump University? And then there's Trump Magazine and Trump Vodka and Trump Steaks, and Trump Mortgage? A business genius he is not.
Mitt has a point. I have rarely seen a less thoughtful label concept. The label makes a hollow claim that it's "Super Premium" and "The World's Finest" — with — wait for it —  nothing to back it up. There is almost nothing of note on the label or the application. I see about seven approvals, between May of 2006 and September of 2007, before the brand was put out of its misery.
This article reports that the bottles were emblazoned with the slogan "Success Distilled," but I don't see it on the approvals, as would surely be required (to comply with things like laws). It continues:
As for the vodka itself, it was created by Wanders Distillery in Holland, distilled five times from "select European wheat," and then rested for six months in stainless steel vats before bottling at 80 proof. … The only trouble was, nobody bought it. By the end of 2007 it barely registered among the top-selling vodkas, badly trailing the likes of Smirnoff and no threat whatsoever to Grey Goose. Go figure that customers wouldn't line up for a product that existed for the sole purpose of one-upping Trump's friend. Who would have guessed that drinkers wouldn't hand their money to a teetotaler who had no idea what his own product tasted like. In 2008, less than two years after launch, the Trump Vodka trademark was abandoned.
Among the other bad ideas, is there any point to resting the stuff in stainless steel?