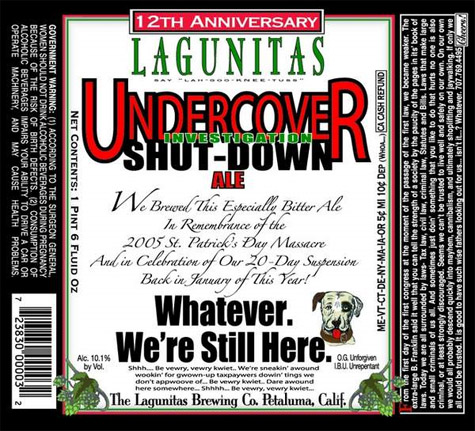 This beer defiantly celebrates the 2005 investigation and shut-down of the Lagunitas Brewing Company. After a two-month undercover investigation, the California ABC ordered the Petaluma, CA brewer to shut down for 20 days. The ABC found evidence of pot smoking on company premises.
The label packs a lot of good writing, and a good story, onto a small label. Tony Magee, the company founder, and a former reggae musician, wrote the label:
We Brewed This Especially Bitter Ale In Remembrance of the 2005 St. Patrick's Day Massacre And in Celebration of Our 20-Day Suspension. … Whatever. We're Still Here. … The extra large B. Franklin said it well that you can tell the strength of a society by the paucity of pages in its book of laws. Today we are all surrounded by … laws that make large and small criminals of us all.
Many thanks to Lance M. for bringing this label to our attention.