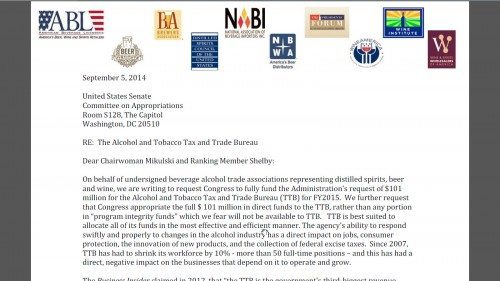 I read about TTB funding a few days ago in Wine & Spirits Daily. It is good but I still don't understand why they don't use more links. I had to look elsewhere for the letter, to the Senate, about TTB funding. The letter is here.
Here are some highlights and observations:
The letter seems to cover the powers that be, in the beer, wine and spirits industries (BI, WI, DISCUS, etc.).
They, and TTB, seem to set TTB's funding needs at $101 million, for 2015.
The letter says "Since 2007, TTB has had to shrink its workforce by 10% ‐ more than 50 full‐time positions – and this has had a direct, negative impact on the businesses that depend on it to operate and grow."
The letter reads like a big wet kiss:  "The Business Insider claimed in 2012, that 'the TTB is the government's third‐biggest revenue collector, after the IRS and Customs and Border Protection.' It may also be its best: In fiscal year 2013, it took in $23 billion. That amounts to $457 for every dollar the agency spent collecting taxes ‐ more than twice the IRS' ratio. No other federal agency does so much for so little, while also having a huge impact on the industry it regulates."
With a further embrace, the letter says:  "We need a well‐funded TTB to be able to process label requests quickly in order to get new products to market in this highly competitive global market place. We also need a wellfunded TTB to prevent and guard against unscrupulous actors from entering our marketplace who otherwise could harm the public with dangerous products, which has occurred outside of the United States with counterfeit alcohol."
"In recent years, the alcohol beverage industry has seen explosive growth across the United States and the number of businesses that the TTB regulates has skyrocketed." Since 2007, "the number of wineries, breweries
and distilleries in the country has grown by an astounding 53.1%."
While heaping praise upon TTB, the letter also takes a small jab at other agencies:  "In short, now is not the time to cut funding to one of the few federal agencies that is performing well and actually helping a significant US industry grow."
From my perspective, it does look plain expensive to run something like TTB. I would imagine that not handling paper and not mailing out tons of labels and formulas has saved TTB a lot of money in the past decade. It would seem that most of the costs for systems like FONL and PONL and COLAs Online are one-time only costs. While those systems seem to work reasonably well, it is very difficult to have a dialogue by phone, in-person, or email, and though this is unfortunate, I suspect it saves a lot of money (at least in the short-term). On the other hand, in TTB's quest for some internet-based efficiencies, they may have succeeded too much in making it easy to submit all manner of stuff. This forces TTB to deliberate upon every hare-brained scheme with about the same exertion as the next big thing.